Twitter has officially lost its mind over the royal baby's name, and here are some of the best tweets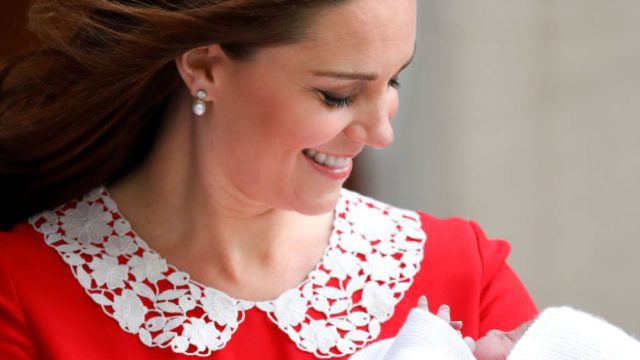 In case you missed it, on April 23rd, a new baby prince joined the British royal family. And after days of anticipation, Prince William and Kate Middleton unveiled the third royal baby's name today, April 27th, revealing that he will be named Louis Arthur Charles. And Twitter users reacted with pure joy.
The royal baby's name was officially announced this morning in a tweet from the Kensington Palace. The tweet stated that, "The baby will be known as His Royal Highness Prince Louis of Cambridge." Prince Louis will be fifth in line to the British royal throne, after his older sister, Princess Charlotte, making this the first time a royal younger brother hasn't taken his sister's place in the line of succession.
Although many had predicted that the new prince would be christened Arthur, James, or Albert, Louis (pronounced "Louie") has a lot of significance for the royal family. According to Harper's Bazaar, one of William's middle names is Louis, and both his great-great grandfather and great uncle were named Louis. The prince's middle names are also nods to family history, with the baby's grandfather being, as we know, Prince Charles.
The youngest member of the royal family even shares part of his name with his older brother, Prince George. The 4-year-old's full name is George Alexander Louis, meaning the two brothers already have a lot in common.
After days of waiting, Twitter is abuzz with excitement over the royal baby's name.
https://twitter.com/udfredirect/status/989808746997125121
Some even joked that the name is a One Direction tribute.
And after all the jokes, Louis Tomlinson himself even welcomed new baby Louis.
Pottermore also pointed out that the prince's name is pretty magical.
We have to agree that the royal baby's name is definitely regal. Congratulations to the Duke and Duchess of Cambridge, and welcome to the world, Prince Louis.