Twitter is not happy about Gary Oldman's 2018 SAG Awards win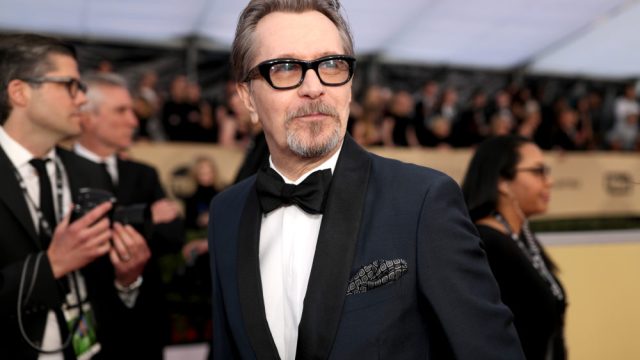 Despite his controversial past behavior, Gary Oldman took home yet another trophy last night at the 2018 SAG Awards for his role in The Darkest Hour. The British actor, who already won Best Actor in a Drama Motion Picture at the 2018 Golden Globes, is now definitely on track to take home an Oscar, too. However, not everyone agrees that Oldman should be getting positive recognition in the current cultural climate.
For those who don't know, in 2001, Oldman's then-wife Donya Fiorentino claimed he assaulted her with a telephone in front of their two children.
"As I picked up the phone to call the police, Gary put his hand on my neck and squeezed," Fiorentino said in a statement. "I backed away, with the phone receiver in my hand. I tried to dial 911. Gary grabbed the phone receiver from my hand, and hit me in the face with the telephone receiver three or four times. Both of the children were crying."
Fiorentino's claims were later investigated by police, but no charges were filed. Oldman denied the abuse allegations as "replete with lies, innuendoes and half-truths," adding that his ex-wife was a recovering addict. Oldman has also made light of racist and homophobic comments made by others in the past, even commenting once that Hollywood is a town "run by Jews." He's also been called a hypocrite after he wore a Time's Up pin at the Golden Globes despite the fact that he's defended men like Mel Gibson.
And Twitter was not happy.
https://twitter.com/udfredirect/status/955271486469754880
We'll be interested to see if Oldman also wins an Academy Award this year — especially based on the Academy's new "code of conduct."