Twitter is still on fire over Janelle Monáe's 2018 Grammys speech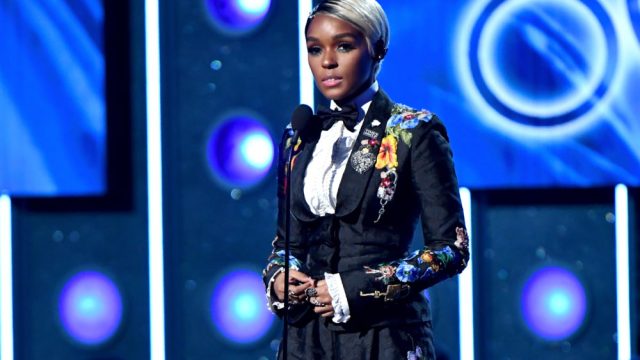 Last night, January 28th, were the 2018 Grammy Awards. The evening was filled with incredible performances (um, Kesha, anyone?), fantastic lewks, and — perhaps most importantly — some amazingly inspirational speeches. And Janelle Monáe's 2018 Grammy speech may have been the most powerful of all.
Monáe took the stage to introduce Kesha, but before doing so, she spoke out on both the #MeToo and Time's Up movements. "Tonight, I am proud to stand in solidarity as not just an artist, but a young woman, with my fellow sisters in this room who make up the music industry — artists, writers, assistants, publicists, CEOs, producers, engineers, and women from all sectors of the business," she said. "We are also daughters, wives, mothers, sisters, and human beings. To those who would dare try and silence us, we offer you two words: Time's up. We say Time's Up for pay inequality, discrimination or harassment of any kind, and the abuse of power."
She concluded her speech by saying, "We come in peace, but we mean business."
false
And Twitter was 100% here for it.
false
Monáe's speech perfectly captured the spirit of the movement: strong, fierce, and ultimately about creating a better world for everyone. And we'd honestly expect nothing less from the actress and activist, who routinely uses her voice to speak out for women and the oppressed.
Thank you, Janelle, for using your platform to speak out when so many women can't. You can read the full transcript of her speech here. Prepare to be inspired.