Twitter has rightfully lost its mind over the new Cardi B single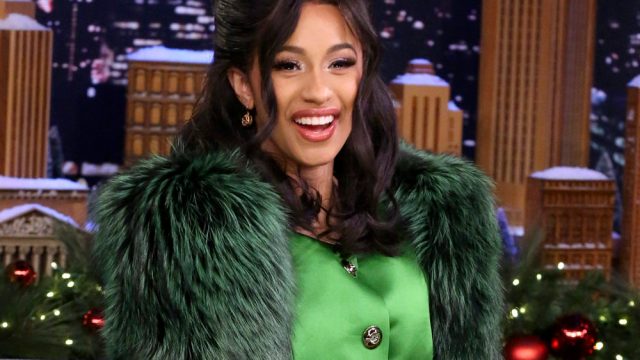 Cardi B just released her latest single "Bartier Cardi" featuring 21 Savage, and if Twitter's reaction is any indication, she's the best thing that has ever happened to music. She basically stole 2017 with triple-platinum "Bodak Yellow" and aside from a few feature spots and collabs with Migos, G-Eazy, and A$AP Rocky — this is her first single since "Bodak Yellow" won 2017, which is why the anticipation was high.
Cardi stopped by The Tonight Show to promote the new single which Jimmy Fallon called "one of my favorite interviews."
On the name of her new song, "Bartier Cardi," the rapper told Fallon, "I had to name it Bartier because I didn't want Cartier to sue me."
On her two Grammy nominations: "You wanna know something? I already feel like a winner, you know what I'm saying? Because, it's just like, I never thought, me! Like, I already won. What's good?"
On her new success: "I'm so proud of myself. It does feel good. And it feels good because I really worked my ass off for it. And it's just like, it finally pays off. I have been proven!"
Without any further ado, listen to "Bartier Cardi" below:
https://www.youtube.com/watch?v=sXP6vliZIHI?feature=oembed
Here are some of our fave reactions on Twitter:
false
https://twitter.com/udfredirect/status/944256886081286144
false false false
Cardi is the first solo female rapper to score a No. 1 on Billboard's Hot 100 chart in nearly two decades, and this latest single is currently sitting in the #1 spot on the iTunes chart for Rap/Hip-Hop. As evidenced by Twitter, and the accolades, Cardi B is a force to reckon with.