There's a Twitter account about fashion in "Buffy the Vampire Slayer," and it's painfully accurate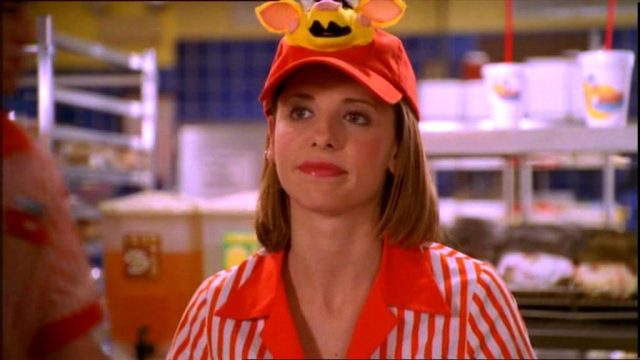 After seven glorious seasons, Buffy the Vampire Slayer was ripped from our lives just as abruptly as it entered. Sure, we had 144 episodes of Sarah Michelle Gellar being a badass and, you know, slaying things, but sometimes it just doesn't seem like enough. Thankfully, we were #blessed when Netflix added the show to its streaming library.
Well, we're even more #blessed now because a Twitter account exists that is completely dedicated to the fashion in Buffy.
The account @BadBuffyOutfits was created by Film Journal Associate Editor Rebecca Pahle. Pahle brings back all the unfortunate fashion situations that occurred on the show, along with some hilarious and on-point commentary. 
It's basically the Twitter account of our dreams, and honestly, we've never seen anything more painfully accurate.
Here are some examples:
Pahle first started watching the show in 2001, and hasn't looked back since.
"I fell swiftly, and I fell hard," she said in an interview with Mic.
But when she rewatched the show five years ago, she began to notice the horrendous clothes worn by the entire cast.
"I noticed the clothes were terrible, which is something that completely passed me by when I was in the midst of early 2000s sartorial hell," she said. "Also, Buffy does this thing where characters will be dressed for completely different seasons in the same shot. Buffy's wearing a tank top and Willow's in a wool sweater, and one of the background characters is probably wearing a parka. I never noticed that before. It's hilarious."
Being the huge Buffy fan she is, and also someone who survived the '90s and early '00s worldwide fashion crisis, she totally relates to the terrible fashion choices.
"I harp on Willow a lot, but I wore awful hats and oversized cardigans and overalls, too, so it comes from a place of love," she added.
We, too, can relate. Unfortunately.