Twitter can't handle Blue Ivy freestyling on Jay-Z's new album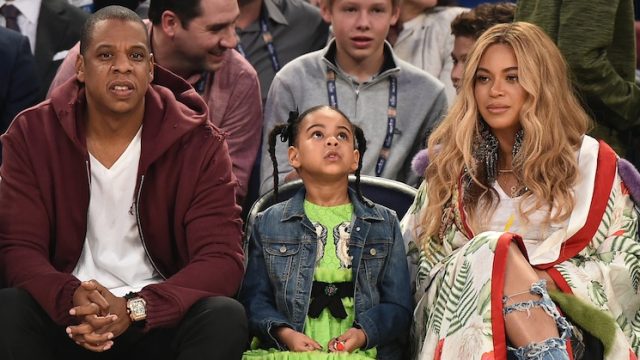 Whether or not you've heard Jay-Z's new album 4:44, the buzz around a certain five-year-old's rap is inescapable. Yup, Blue Ivy's rap freestyle has Twitter in a tizzy! She appears on the bonus track "Blue's Freestyle/We Family," and it's not just a little quickie; she actually raps for like forty-five seconds straight! Rap-Up even quoted one of her lines, "Never seen a ceiling in my whole life. Boom shakalaka, boom shakalaka, everything in shaka, everything in fake." Damn, girl!
Even though some of her words were hard to decipher, we're not surprised that her rap debut is being met with such enthusiasm and curiosity.
First, let's take a listen:
And the people have spoken!
Blue Ivy is the new Queen of Rap.
For a second we were wondering how Blue Ivy might be handling the massive attention, but then we remembered her appearance at the Grammys, and how confident she was…and how she participated in carpool karaoke with James Corden! The writing was on the wall. She's a star.
And with the demand for more Blue Ivy performances, maybe it's something she'll pursue.
Either way, it's a pleasure to hear her be included on Jay-Z's thirteenth (!) studio album. Blue Ivy is such a spirited little girl, and with iconic parents to guide her in the right direction, we have a strong suspicion that she'll continue to surprise us with more amazing things. Seriously — we have a hunch that her own debut album may not be all that far off.
Thanks for making our day, Blue. You officially have the support of the internet.