Sorry, Twitter: Your favorite social media platform isn't going to ban Donald Trump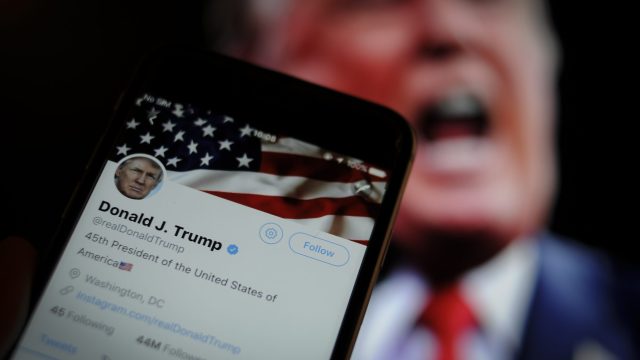 Ever since Donald Trump became president, people have been begging Twitter to ban him from the platform. The calls only get louder when he uses the social media site to, say, tweet that his nuclear button is bigger than Kim Jong Un's, the leader of North Korea. We can all agree no one wants a nuclear war started over Trump's Twitter feed, right?
But while many insist Trump repeatedly violates Twitter rules on threatening violence and engaging in abusive behavior, it doesn't appear the president is going anywhere. Twitter didn't specifically mention Trump, but it did release a blog on Friday, January 5th, outlining its policy for world leaders on Twitter. The blog reads in part:
Blocking a world leader from Twitter or removing their controversial tweets would hide important information people should be able to see and debate. It would also not silence that leader, but it would certainly hamper necessary discussion around their words and actions.
But POTUS doesn't just use Twitter to joke about being violent with the media, or to falsely take credit for zero air travel deaths in 2017. He sometimes uses the platform to announce major policy decisions, like when he tries to prevent transgender people from serving in the military and push for an unpopular wall along the U.S.-Mexico border. And that, apparently, helps "advance the global, public conversation" Twitter mentioned in its blog.
https://twitter.com/udfredirect/status/946731576687235072
We're all for free speech when it's not inciting harm or violence. But we think it's pretty clear Trump's tweets encourage hate and threaten harm.
Twitter is unlikely to change its mind on banning Trump, especially because his tweets probably help drive the site's growth.
It's nice that Twitter wants to be transparent about its policies. But until Twitter changes its mind (please change your mind!), we'll have to learn new ways to cope with the stress of Trump's dangerous tweets.