Twitter is at war over whether Justin Timberlake's new single "Filthy" is good or bad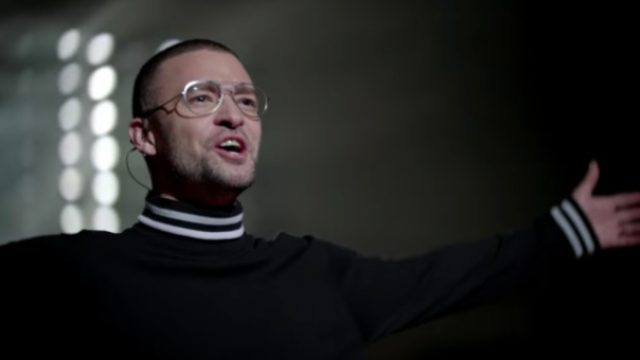 There's another Twitter war afoot, and this time it has to do with Justin Timberlake's new single "Filthy." The track, which dropped midnight on Friday, January 5th, is the first song released from the singer's upcoming album Man of the Woods. And Twitter genuinely can't decide if it's good or…"garbage." Some on the internet are saying it's the latter, and others are defending it as "way ahead of its time."
The song began trending almost immediately after it dropped (with an accompanying music video), and it's safe to say that — whether you love it or hate it — it's not what people expected. When Timberlake announced his album earlier this week, he did it via a country music-esque trailer. "It feels like mountains, trees, campfires," his wife, Jessica Biel, promised in a voice-over. "Like, Wild, West. Like, now."
Instead, we got a futuristic, upbeat pop song. The music video even features JT channeling tech guru Steve Jobs.
In just a few hours, the track has already spawned some hilarious memes:
false false
And, of course, a lot of opinions.
false false
https://twitter.com/udfredirect/status/949273295760822273
Check out the video below.
https://www.youtube.com/watch?v=gA-NDZb29I4?feature=oembed
Man of the Woods comes out Friday, February 2nd, two days before Timberlake takes the halftime stage at Super Bowl LII in Minneapolis. Timberlake hasn't performed at the Superbowl since the infamous "wardrobe malfunction" incident with Janet Jackson in 2004, so needless to say, we're intrigued to see what he has in store for us. One things for sure: JT is all about surprises this time around, and we're here for it.