The TV station that aired tips to help women "camouflage traces of violence" just apologized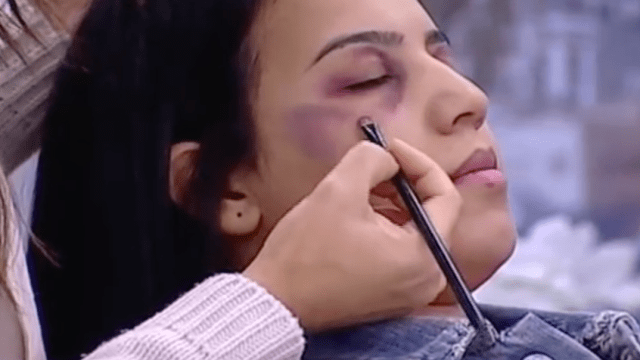 In a perfect world, the media would be using its power to educate the prevention of domestic violence. But a segment on a Moroccan TV showing how to cover up domestic abuse, by using makeup to disguise bruises, proved we are far from a perfect world. The program Sabahiyat was criticized for the segment on domestic violence and the TV station 2M has since apologized, but the damage had already been done.
The segment, which aired on November 23rd, featured a makeup artist using concealer on a woman whose face appeared swollen and bruised with two black eyes. The Moroccan-based journalist Samia Errazzouki shared images from the program on her Twitter account and included translated quotes, like the host allegedly saying:
"We hope these beauty tips will help you carry on with your daily life."
https://twitter.com/udfredirect/status/802151886598115328
The tone-deaf piece on domestic violence faced immediate backlash, according to the Guardian. Not only were people upset that the program seemed to condone domestic abuse by having women "camouflage traces of violence," but it also aired two days before the UN's International Day for the Elimination of Violence against Women on November 25th.
A change.org petition was created by Moroccan women citing their outrage:
"As Moroccan women and as feminist activists in Morocco, and in the name of all Moroccan people, we denounce the message of normalization with violence against women. We demand severe sanctions against this show, 'Sabahiyat,' and the channel 2M."
You can watch the controversial makeup tutorial at 8:54 in the below clip: https://www.youtube.com/watch?v=9bak1AP8EV8
Another disturbing aspect? How prevalent violence toward women seems to be in Morocco. The Independent noted that Human Rights Watch sent a letter to the Moroccan government about reforming domestic violence laws in February 2016. And The Independent also reported that:
"A national survey of women aged 18 to 65 by the Moroccan High Commission for Planning found that in 2009 nearly two-thirds — 62.8 percent — had experienced 'physical, psychological, sexual, or economic violence.'"
As previously mentioned, the TV channel 2M did apologize for the segment via Facebook on November 25th. Yet, it seems it might have been too little, too late and that this wasn't just a case of "editorial error of judgement."
We should be teaching people not to perpetrate domestic abuse of any kind — not teaching victims (of any gender) to hide the violence by literally covering it up. Perhaps one positive thing about this inappropriate program is that at least now people are talking about how to prevent domestic violence — not camouflage it with makeup.
To learn more, visit the website for the National Coalition Against Domestic Violence. For immediate assistance, you can contact the National Domestic Violence Hotline.