What to read, watch, and listen to on female horror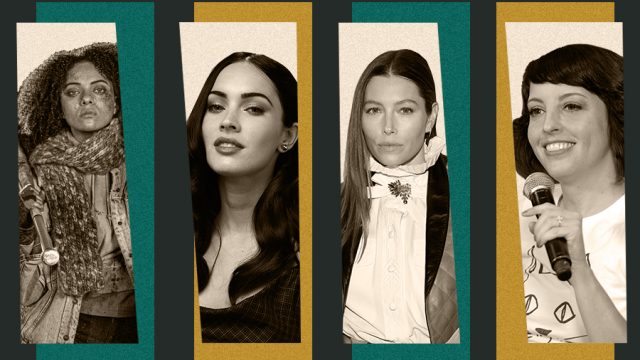 Being a woman in 2019 can feel kind of horrific sometimes, but one of the best ways to channel those emotions about all the terrifying sh*t happening to and around us is through art and entertainment—and what better time to honor those creations than Halloween, a holiday that literally celebrates everything that scares us?     
So in the spirit of the holiday (and in support of female artists doing exceptional, boundary-pushing work), we've compiled a list of some of the best new television shows and movies to watch, books to read, and podcasts to listen to that speak to the darker angels of our nature. Some of these stories are hopeful, some are funny, and others are straight-up scary, but they're all masterminded by women—because no one knows horror like we do.        
TV
Light As A Feather Season 2, Part 2 (Oct. 4)
Kick off the spooky season with the second part of Hulu's horror-fantasy series Light as a Feather, Season 2. Based on the cult-favorite book by Zoe Aarsen, Light as a Feather follows five teenage girls in the aftermath of an accidentally fatal sleepover game. In the second season's eight remaining episodes (the first eight aired over the summer), the cursed crew attempt to hunt down an evil, supernatural kidnapper-slash-murderer who may or may not be hiding in plain sight among them. Four of the five directors who helmed this season's first half were women, and we're hoping that precedent will continue in the second half.        
Nancy Drew (Oct. 9)
https://www.youtube.com/watch?v=96bZFzpdLmY
If you spent your childhood devouring mystery novels and planning outfits around fitted angora sweaters, you'll be thrilled to see your favorite redheaded brought back to the screen for The CW this month. In this new series, the titular spy's career solving mysteries in her hometown of Horseshoe Bay, Maine—and her upcoming college plans—have been derailed by her mother's recent death. But when Nancy and her friends witness a socialite's supernatural murder in the pilot episode, she picks up her metaphorical magnifying glass and gets back to work. Newcomer Kennedy McCann stars as Nancy, and the crew behind the scenes is largely female-led, too. Stephanie Savage, who's also worked on major titles like Gossip Girl, The O.C., and the upcoming Hulu movie Looking for Alaska is among the show's three female producers.
Charmed Season 2 (Oct. 11)
Like the original '90s drama, The CW's Charmed reboot follows three sisters who discover their supernatural powers after their mother's untimely death by evil force. The good witches are then charged with protecting their hometown of Hilltowne, Michigan from demons—which, in the circa-now version, fittingly masquerade as CEOs of major biotechnology firms.
Plot details for Season 2 haven't been released yet, but according to The Hollywood Reporter, sources say this season will "lean harder into its supernatural storylines" than the first season did. You can also expect a slew of new characters joining the Charmed Ones on their mystical adventures, including "'a sexy boxing instructor' called Jordan and a 'sexually fluid witch' called Kat." And with a team of Hollywood heavyweights producing the series—including Jennie Snyder Urman, Jessica O'Toole, and Amy Rardin (who all produced Jane the Virgin), plus new showrunner Elizabeth Kruger—we know we won't be disappointed.      
Limetown (Oct. 16)
In this Facebook Watch adaptation of the podcast of the same name, Jessica Biel stars as investigative reporter Lia Haddock, who "unravels the mystery behind the disappearance of over 300 people at a research community in Tennessee." Biel is also the co-executive producer of the series, which will drop new episodes weekly after its October 16th premiere. Like Biel herself, you'll probably have to keep reminding yourself that the psychological thriller-mystery series, like the insanely creepy podcast, is a work of fiction.
Movies
Rabid (Oct. 7)
In this remake of David Cronenberg's 1977 body-horror classic, aspiring fashion designer Rose (played by Supergirl's Laura Vandervoort) undergoes an experimental reconstructive surgery after a car accident leaves her severely disfigured. The reconstruction is a success, but the side effects of the surgery are decidedly not. The title gives a big clue about the nature of those side effects.
While the plot remains mostly loyal to the original film, writer-directors Jen and Sylvia Soska made it a priority to authenticate the movie's female perspective, which they found thin in the original. "That's one of the main differences between our Rabid and David's original," Jen Soska said in a recent interview. "It's very male-gaze versus female-gaze. I think that would be a great study, if you just watched them back-to-back and then you can see how one is a heterosexual male fantasy, and how this one is a pansexual woman fantasy." 
The Addams Family (Oct. 11)
If you were too scared to make it through the Rabid trailer (*meekly raises our hands*), the new computer-animated Addams Family movie is probably more up your brightly lit alley. In this installment of the beloved creepy-cute franchise, our favorite goth family moves to New Jersey (horror of horrors); suburban hijinks ensue. Charlize Theron, Chloë Grace Moretz, Bette Midler, and Allison Janney are among the star-studded cast, and Gail Berman—one of the masterminds behind Buffy the Vampire Slayer, our other campy Halloween favorite—is co-producing. 
Jennifer's Body
In case you've somehow managed to miss Karyn Kusama and Diablo Cody's black comedy, here's a quick refresher: Jennifer's Body follows a cheerleader-turned-demonically-possessed-succubus (Megan Fox) and her best friend Needy (Amanda Seyfried), who attempts to save Jennifer and, incidentally, all the boys Jennifer is suddenly eating. Since its premiere 10 years ago, Jennifer's Body has been hailed as "a feminist tale ahead of its time" for its realistically complex depictions of female friendship and sexuality. Whether you watch it for its feminist perspective, for the queer undertones (or overtones, depending on who you ask) of Jennifer and Needy's relationship, or for the nostalgic emo soundtrack, watching Jennifer's Body is the perfect way to spend your Halloween night in.            
Black Christmas (Dec. 13)
Bring a little horror to your holiday season with Black Christmas, an upcoming remake of the 1974 slasher flick of the same name, from writer-director Sophia Takal and co-writer April Wolfe. Like the original movie, this year's Black Christmas follows a group of sorority sisters as they're systematically hunted down by a masked serial killer. However, unlike the original, this version takes on an unapologetically feminist bent: "Whoever the killer is," the synopsis reads, "he's about to discover that this generation's young women aren't about to be anybody's victims." Black Christmas is also the first-ever female-directed film from Blumhouse Productions, the production company behind modern horror classics such as Insidious, The Purge, and Get Out. We're on board.   
Books
PET by Akwaeke Emezi (Sept. 10)
PET is Akaweke Emezi's second novel after 2018's Freshwater, their critically acclaimed debut; this is also their first foray into YA (an extremely successful foray, considering that PET has already been longlisted for the National Book Award). This speculative horror/science fiction/fantasy/generally genre-bending novel centers on Jam, a transgender teenager who was raised to believe that monsters don't exist. That dogma is challenged, however, when Jam discovers Pet, a good monster who materializes from her mother's painting plus a drop of Jam's blood (here's where the genre-bending kicks in) to fight the bad monsters that do, in fact, exist—among humanity itself. While PET's propulsive narrative will satisfy your itch for a good, meaty story, this sophisticated novel doubles as a parable on gender identity, visibility, and acceptance, and our responsibility to fight the monsters hidden among us.
His Hideous Heart: 13 of Edgar Allan Poe's Most Unsettling Tales Reimagined edited by Dahlia Adler (Sept. 10)
While we love Edgar Allan Poe—the original sadboi and Halloween's unofficial literary mascot—we have to admit that his 150-year-old stories could use a 2019-worthy glow-up. The YA story collection His Hideous Heart, edited by Dahlia Adler, takes that challenge and runs with it. Each of the anthology's contributors revamp or totally reinvent 13 of Poe's best-known stories and poems, imbuing most of them with a much-needed dose of feminism, LGBTQ representation, and racial diversity. Among the contributing authors are feminist poet/tarot reader Amanda Lovelace, pansexual Chinese-Filipino novelist Rin Chupeco, and queer fantasy writer Tessa Gratton. All of Poe's original texts are included right alongside their reimagined versions, too, which will satisfy the literary purists among us.           
Frankissstein: A Love Story by Jeanette Winterson (Oct. 1)
In this reimagination of Mary Shelley's Frankenstein, the canonical queer writer Jeanette Winterson juggles several settings, plotlines, and narrators at once: among others, there's a British transgender doctor who falls in love with an AI expert; a brilliant sex doll entrepreneur; and Shelley herself as she writes the original monster novel in 1816. Like its predecessor, Frankissstein blends science fiction and Romanticism to invent an entirely new creation—though, in this case, Winterson lends those root genres a very 21st-century update, exploring AI, cryogenics, queer relationships, and the terrifying repercussions of medical and technological experimentation. It's a beautifully unique monster that only a writer as skilled as Winterson could make real.
Ninth House by Leigh Bardugo (Oct. 8)
In her adult fantasy debut, acclaimed YA writer Leigh Bardugo plumbs the deep-seated privilege and elitism of the Ivy League set and renders it a terrifying, supernatural murder mystery (why not?). Ninth House follows Alex, a high-school dropout with a violent past who gains a full ride to Yale—and a role as overseer of the school's occultish secret societies. We should also mention that Alex can see dead people. As you might have guessed, the societies' activities err more on the murdery end of the magical spectrum, leaving Alex to clean up the mess. Ninth House will appeal to readers who like their ghost stories as much as they do an authentically anxiety-riddled, coming-of-age campus novel.
Podcasts
My Favorite Murder
We can't talk about female horror without including everybody's favorite murder podcast that also happens to be hosted by two of our favorite females. This season, listen in as My Favorite Murder hosts/our imaginary best friends Georgia Hardstark and Karen Kilgariff continue to dig into historical and contemporary true crime stories. While every episode is full of living nightmares, our favorite story of this season so far is the case of Dr. Carl Tanzler, who in 1933 disinterred the body of his favorite patient and lived with her corpse for the next seven years. We'd recommend pairing this particularly horrific episode with a viewing of Tim Burton's The Corpse Bride.         
Sawbones
Since 2013, Sawbones hosts Dr. Sydnee McElroy (the straight-talking physician) and her husband Justin McElroy (the goofy comic relief) have been delighting and disturbing listeners with stories about "all the odd, weird, wrong, dumb and just gross ways we've tried to fix people over the years." It's equal parts history lesson, fun and approachable medical lecture, and hilariously shocking display of humanity's historical foolishness. This year, the McElroys' inaugural "spooky season" episode investigates why so many cultures throughout history have used garlic to ward off a litany of physiological sins. And vampires, obviously. 
Death in the Afternoon
Founded by the writer and mortician Caitlin Doughty, The Order of the Good Death is a team of death-positive folks who create digital content and host in-person events that aim to neutralize "the death anxiety of modern culture"—and inject it with a healthy dose of lightheartedness. Naturally, any of their several podcasts are appropriate seasonal entertainment, but we're into Death in the Afternoon, the team's newest podcast. Hosts Caitlin Doughty, Louise Hung, and Sarah Chavez tell stories about historical moments in death—like 19th-century Parisian morgues, which doubled as tourist attractions—and discuss how death-related things (like the zombie obsession, or how to organize end-of-life tasks before you actually die) operate in contemporary culture.
We hope these female-driven shows, movies, books, and podcasts will make you feel a little less alone as you contend with your particular demons. (That's in addition to helping you celebrate Halloween for the entire month of October, of course, as we've been doing since September 1st.)