Turns out Lupito Nyong'o is ~maybe~ the goofiest person around and it's awesome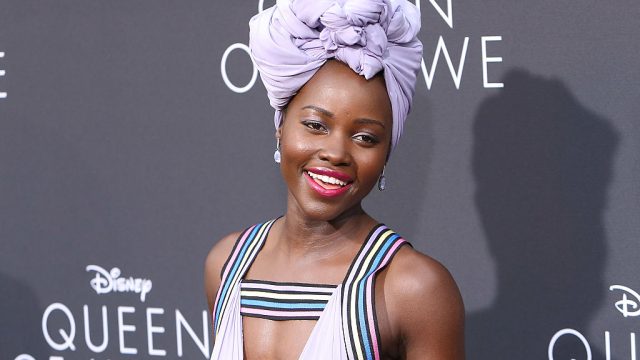 We know Lupita Nyong'o from some of her incredible, chic red carpet looks and her absolutely incredible grace and poise. She stars in dramatic and awesome films like 12 Years a Slave, Queen of Katwe and Star Wars: The Force Awakens. But what we didn't realize is that behind the scenes, Lupita is actually a fun, silly goofball, and it makes us love her even more. We collected some of our fave goofy moments from Lupita because they are treasures.
She has the most adorable date for a Friday night.
https://www.instagram.com/p/meY1ZtHub4
Haha, we would love to have Charlie Brown and Snoopy as our "main squeeze." Bonus points for her fabulous Peanuts pj's that she's also wearing.
She loves to dance like nobody's watching.
https://www.instagram.com/p/BG2H8SIHueC
Check out her sweet moves in this video. She's totally rocking out in what looks like the dressing room of her starring role on Broadway, Eclipsed.
She totally knows how to laugh at some of the crazy parts of her job, like this head piece from a photoshoot.
https://www.instagram.com/p/kswrG4nuT3
THAT FACE! She cracks us up, and we love that she has a little fun with her accessories, because that's what we'd do if we had something like that on our head.
She never for one second forgets how great her job is.
https://www.instagram.com/p/uQ6KwdHucx
She is totally fangirling out in this photo with Han Solo, because obviously, she got to be IN Episode 7, and that's awesome. And she's totally emphasizing her nerdiness with that vegetable she's got purposefully stuck in her teeth.
Even when she's taking a tourist photo, she's got a sense of adorable whimsy.
https://www.instagram.com/p/iIaCjpHucQ
Lupita is posed in a very dramatic way with these weird statues on a bench. Her equally melodramatic tag of "A world in black and white. And of course red," shows that she's having a little fun with her Insta posts.
Finally, she tries to keep it real, even considering all of her incredible accomplishments.
https://www.instagram.com/p/lQlgL1Hud8
Lupita is literally holding the Oscar that she just won, but she is goofing around with the chocolate Oscars available at the after party. She's the best!