Tulsi Gabbard says she's running for president—here's what you should know about her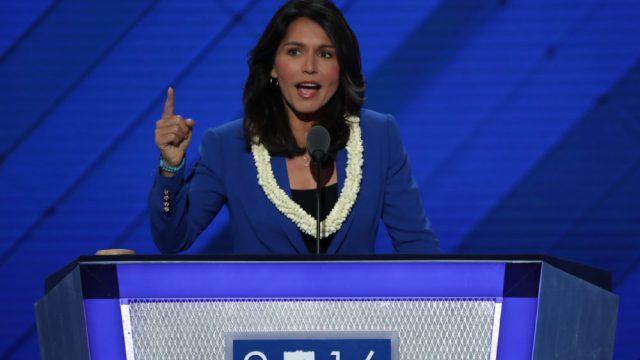 It might seem early, but politicians are already beginning to announce their presidential bids for 2020. Former Secretary of Housing and Urban Development Julián Castro and Senator Elizabeth Warren have both joined the race, and on January 12th, Representative Tulsi Gabbard (Dem.) also announced that she plans to run. According to CNN, Gabbard first announced her candidacy in an interview on CNN's The Van Jones Show. The 36-year-old representative from Hawaii told Jones that her platform would focus on health care access, criminal justice reform, and combating climate change. She added that there was "one main issue" central to her campaign—"war and peace."
Gabbard, as CNN notes, is a veteran of the Iraq War. She is also the first American Samoan member of Congress, as well as the first Hindu to serve in Congress. She was a vice-chair of the Democratic National Committee in 2015, when she used her platform to criticize DNC Chairwoman Debbie Wasserman Schulz for only scheduling six debates during the primaries. Later, she resigned and went on to become a strong Bernie Sanders supporter.
https://www.youtube.com/watch?v=ihZRS289AyM?feature=oembed
But Gabbard's past makes her a controversial candidate.
A 2017 profile of Gabbard in The New Yorker revealed that she has a history of actively opposing LGBTQ rights. In 2004, as a member of the Hawaii State House of Representatives, she opposed a bill that would have legalized civil unions for same-sex couples. That same year, she gave an impassioned speech against a resolution meant to curb the bullying of LGBTQ students. She also opposed abortion, and in 2003, she voted "no" on a bill that required hospitals to provide victims of sexual assault with immediate access to emergency contraception.
When she was running for the U.S. House of Representatives in 2012, Gabbard said that her time in Iraq had changed her beliefs, and in a statement to CNN, she said, "I regret the positions I took in the past." But many feel that her apology is too little, too late.
Gabbard's foreign policy has also caused controversy. In 2017, she came under fire for meeting with Syrian President Bashar al-Assad—who has been accused of targeting Syrian civilians during the country's civil war. As The Guardian reported, after her trip, she defended the leader, calling his opposition "terrorists."
In 2016, HuffPost notes that Gabbard caught the eye of former KKK Grand Wizard David Duke, who endorsed her for secretary of state. But she disavowed his support, tweeting that his "white nationalism is pure evil."
Gabbard probably won't be the last Democrat to announce a 2020 campaign, and we'll be watching to see how the race for the next president of the United States unfolds.