This "tulip bag" has a 2,000 person waitlist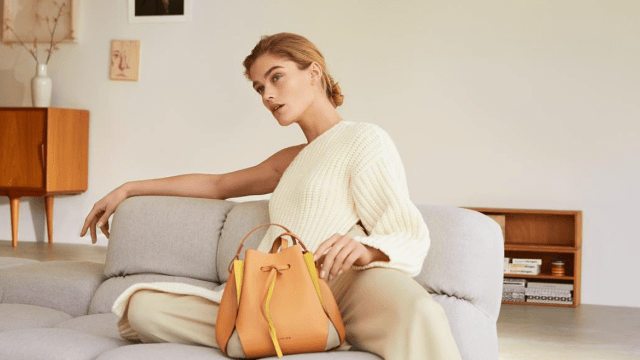 We're used to waiting for what we want. Although the wait isn't always worth it, sometimes it really is. Think waiting in line for ice cream and finally tasting your favorite flavor. Or foreplay! Or even being put on the waitlist for the bag you though was only a dream, but it *actually* exists. If you subscribe to the latter, then you've probably heard of The Tulip Bag; a purse with a 2,000 person waitlist.
The cult-loved purse is sure to be a fall staple, and thankfully, you can still order your bag on Indiegogo. Plus, you can save some cash while you do (aka the ultimate fashion win).
The Tulip is from Linjer, a direct-to-consume brand that specializes in sleek and minimal leather accessories.
While this purse has all the eye candy of simple clean lines and fine leatherwork, it also has the excitement of peekaboo color paneling.
Whether you're picking out a tan bucket bag with red or yellow accents, or a black one with red and white accents, this simple bag is sure to become your fall favorite. If you're not one of the 2,000 people who have already gotten their hands on this, you can have your own Tulip Bag by October. The price of $375 is also $75 cheaper than the full retail price, so go on and treat yourself.
No matter what you snag from Linjer, you're sure to head into autumn with your best-dressed foot forward. A new purse never hurt anyone, right?