#FireTuckerCarlson is trending after several of his past misogynistic comments surfaced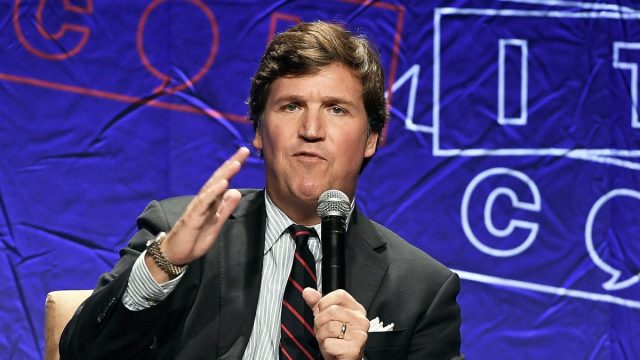 It's 2019, but that doesn't mean sexism isn't still alive and well. Misogynistic and derogatory comments about women are still regularly dismissed as "jokes" and "locker room talk," and Fox News host Tucker Carlson is the most recent man to be caught belittling women under the guise of "humor." Last night, March 10th, Media Matters for America published audio clips of Carlson calling in to the radio show Bubba the Love Sponge. The clips, which were recorded during a period from 2006 to 2011, entail Carlson calling Martha Stewart's daughter Alexis "c**ty," saying that women were "extremely primitive," and calling Britney Spears and Paris Hilton "two of the biggest white whores in America."
In addition to these derogatory comments, Carlson downplayed the severity of statutory rape and child brides, saying,
"I am not defending underage marriage at all. I just don't think it's the same thing exactly as pulling a child from a bus stop and sexually assaulting that child. [...] The rapist, in this case, has made a lifelong commitment to live and take care of the person, so it is a little different. I mean, let's be honest about it."
Carlson seemed dismissive about the leaked audio in a recent tweet, writing that he had been caught "saying something naughty" and would not apologize.
"Rather than expressing the usual ritual contrition, how about this: I'm on television every weeknight live for an hour," he wrote. "If you want to know what I think, you can watch. Anyone who disagrees with my views is welcome to come on and explain why."
]The host's non-apology didn't sit well with Twitter, and it wasn't long before #FireTuckerCarlson began trending.
https://twitter.com/udfredirect/status/1105057366062575619
Carlson's past comments—and his seeming lack of remorse—are appalling, and it's pretty gross that he's obviously using them for an ratings boost. Sorry, Tucker—we won't be watching. But we do hope you have to answer for your disgusting remarks.