12 tube tops perfect for sweaty summer days, starting at $7
We've all pined over a trend—think straw bags, tie-dyed clothing, or bucket hats—and been crushed when sky-high prices prevented us from experimenting with the style. With Stylish Steals, we bring you affordable versions of the latest trends spotted on the runway, on Instagram, in stores, and on the street. Consider us your new, price-savvy personal shoppers.
When you think of tube tops, you probably think of early aughts fashion—tattoo chokers, low-rise jeans, studded belts—truly crème de la crème. Among the denim skirts and airbrushed shirts, tube tops reigned supreme as a staple piece in every girl's closet during the late '90s and early 2000's. But now, tube tops are back with a vengeance, and we're hopping right back on board.
Something about the effortless style of tube tops just screams "cool girl" (they were a Carrie Bradshaw favorite, after all). Pair tube tops with joggers or tie-dye shorts while staying home, and whip out the ripped jeans once you're able to leave the house.
These breezy shirts are the perfect solution for pit-stain-ridden summer days.
Sleeveless and stretchy, wearing a tube top feels like you're going topless—a feeling we relish during the warm weather months. But tube tops don't have to be packed away and slid under your bed once the temperatures dip below 70°F. No, tube tops are the ideal shirt for layering under jean jackets, cardigans, and flannels during the fall. Behold: the versatile, comfortable, (did we mention cool?) shirt everyone's buzzing about.
From smocked to ribbed and plain to patterned, we rounded up 13 tube tops for you to shop below.
1. ASOS Design Tall Organic Cotton Crop Bandeau Top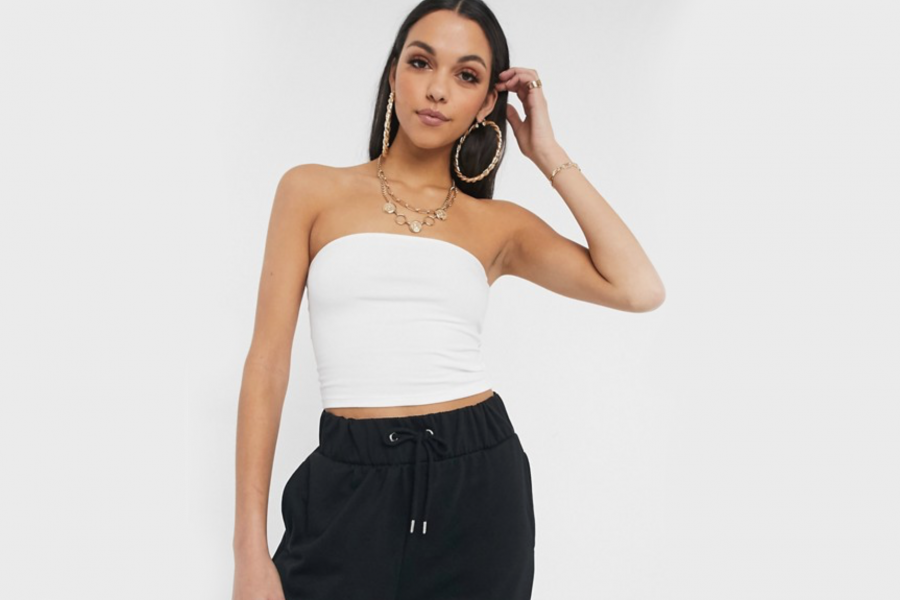 If you just want to dip your toes in the trend, a white tube top is the gateway piece. As the most versatile warm-weather color, white can do no wrong. Pair this top with comfy joggers like above, or a denim skirt once you're able to head out on the town.
2. American Eagle Striped Tube Top
Stripes are timeless, and this thick print exudes fun. The ribbed fabric adds extra interest, and this little number comes in another striped pattern of teal, black, and blush.
3. Superdown Mayra Tube Top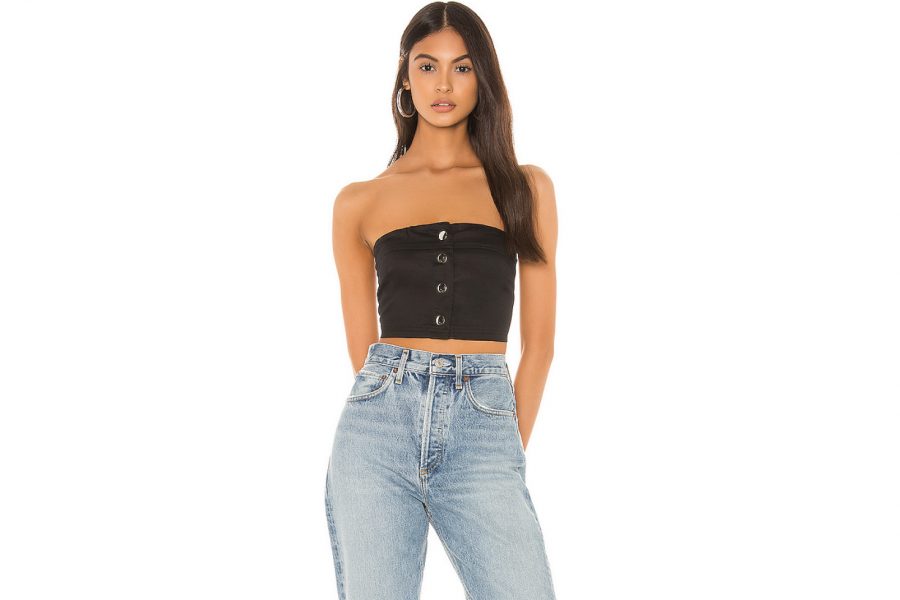 A button-down tube top? We're into it. Along with white options, little black tube tops are a must during the summer months, and we're adding this buttoned baby to our carts as we speak.
4. Only Sunny Smocked Bandeau Top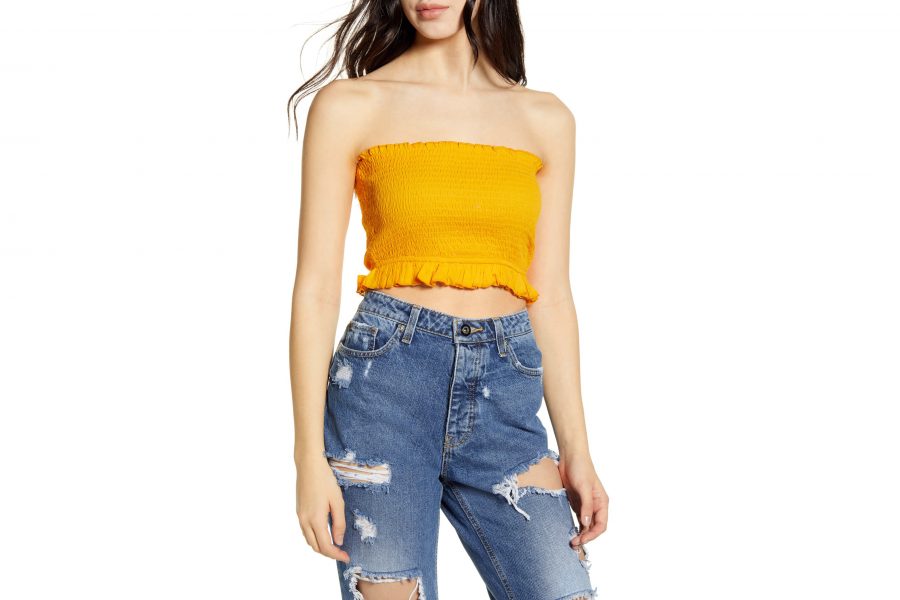 No color screams "summer" more than sunny yellow. This smocked tube top will brighten any warm weather outfit, and the ruffled hem adds a flirty touch that we're all about.
5. Topshop Bandeau Top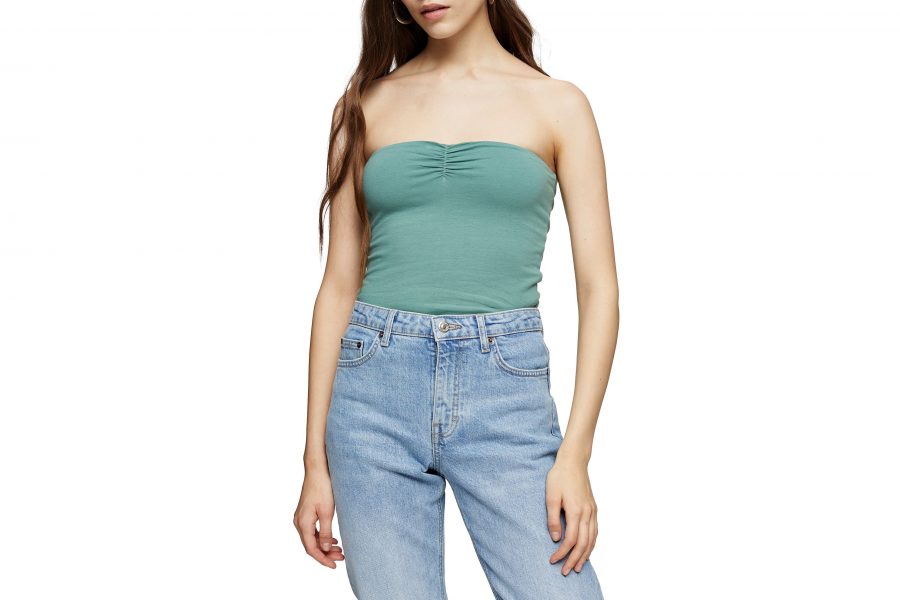 Cinched cleavage adds a feminine flare to this tube top. This teal color would likely be pit stain city if it were in T-shirt form, so take advantage of the sleeveless look and wear this pretty color without the fear of pitting out. It also comes in black, red, white, and yellow.
6. Daisy Print Cropped Tube Top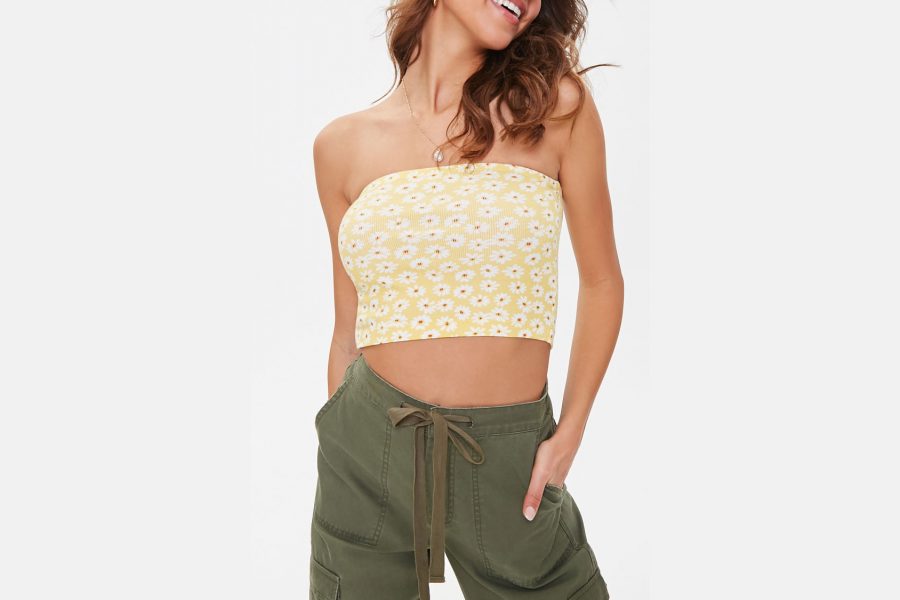 Daisies are one of our favorite floral patterns to wear: They ooze a cheery and carefree vibe that we try to channel all summer long. This cropped tube top comes in this light yellow print or with a black background that makes the white flowers pop.
7. Privacy Please Pippa Top in Moroccan Orange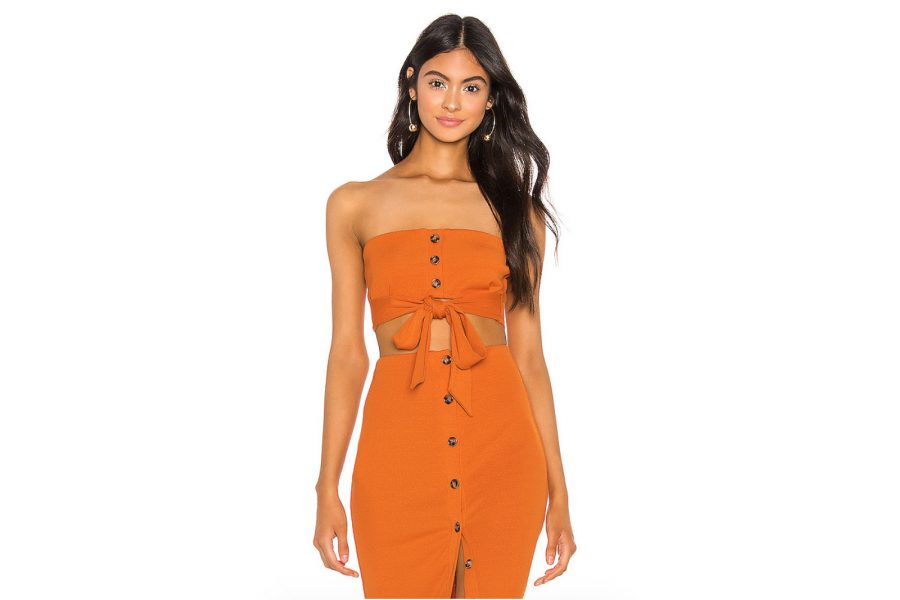 We'll never say no to a bow-tie top, but add in the buttons trailing down this one, and we're sold. This rusty orange color is ideal for summer nights, and we can already see ourselves pairing this with our favorite high-waisted jeans.
8. Urban Outfitters Ribbed Tube Top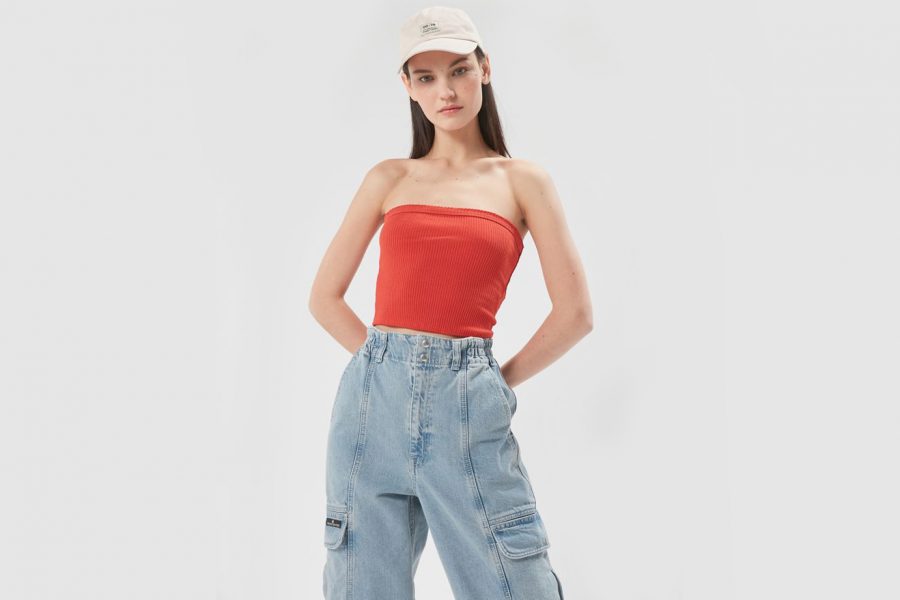 We can always count on Urban Outfitters for stylish staples at affordable prices, and this ribbed tube top is no exception. It comes in this tomato red, black, and a striped pattern.
9. Shirred Bandeau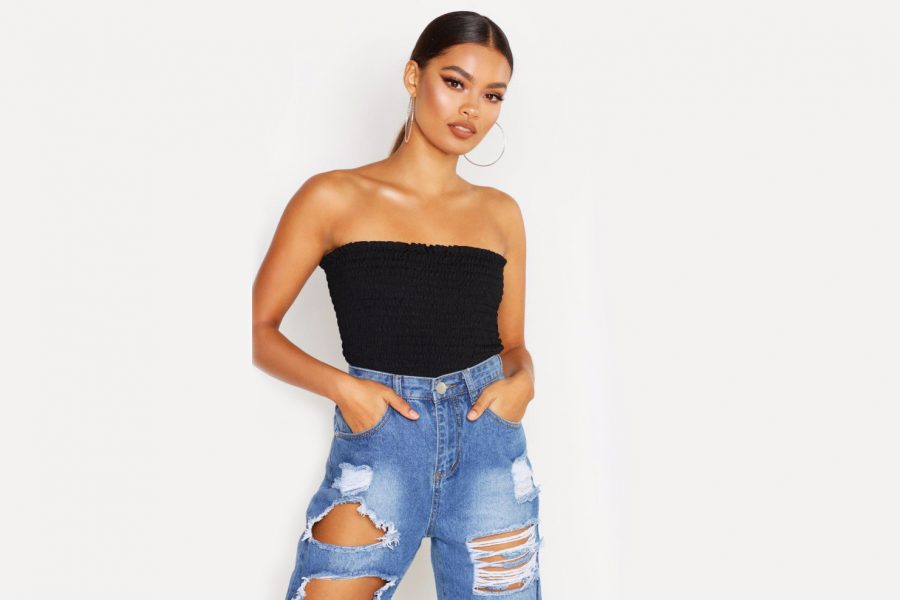 Looking for a classic black tube top? Look no further. This shirred bandeau top can easily be dressed up or down, and the textured fabric makes going braless less noticeable.
10. Urban Outfitters Textured Cropped Tube Top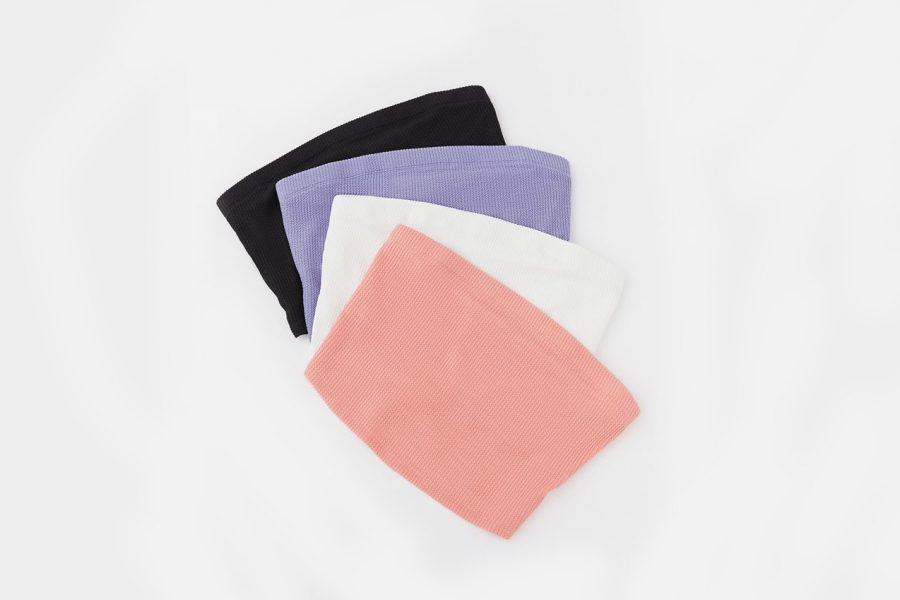 Choose from black, white, peach, and lavender for this cropped tube top. Or, if you're like us, get one of each.
11. Superdown Amber Strapless Top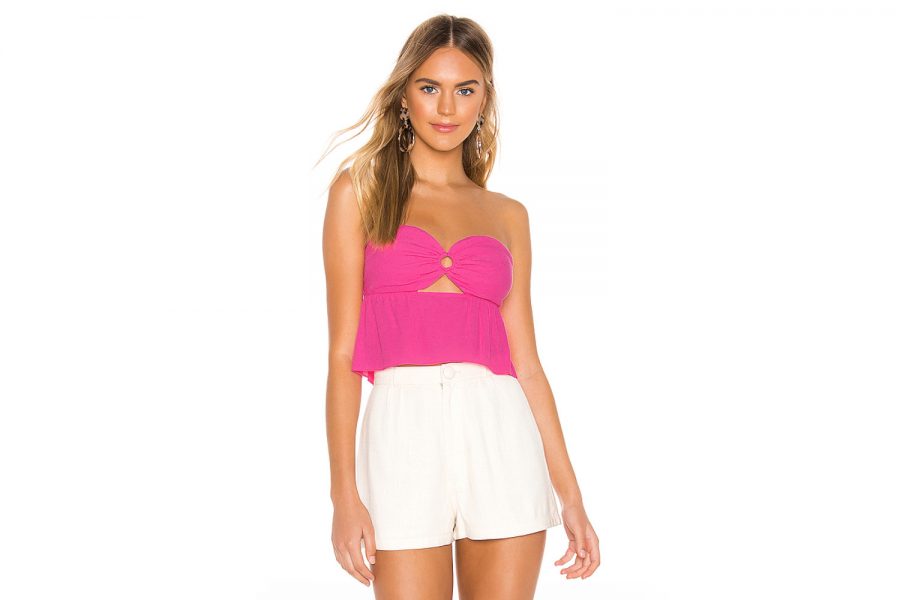 A sweetheart neckline and geometric cutouts make this tube top one of a kind. The bubblegum pink color is perfect for flirty summer nights.
12. Basic Bandeau Bodysuit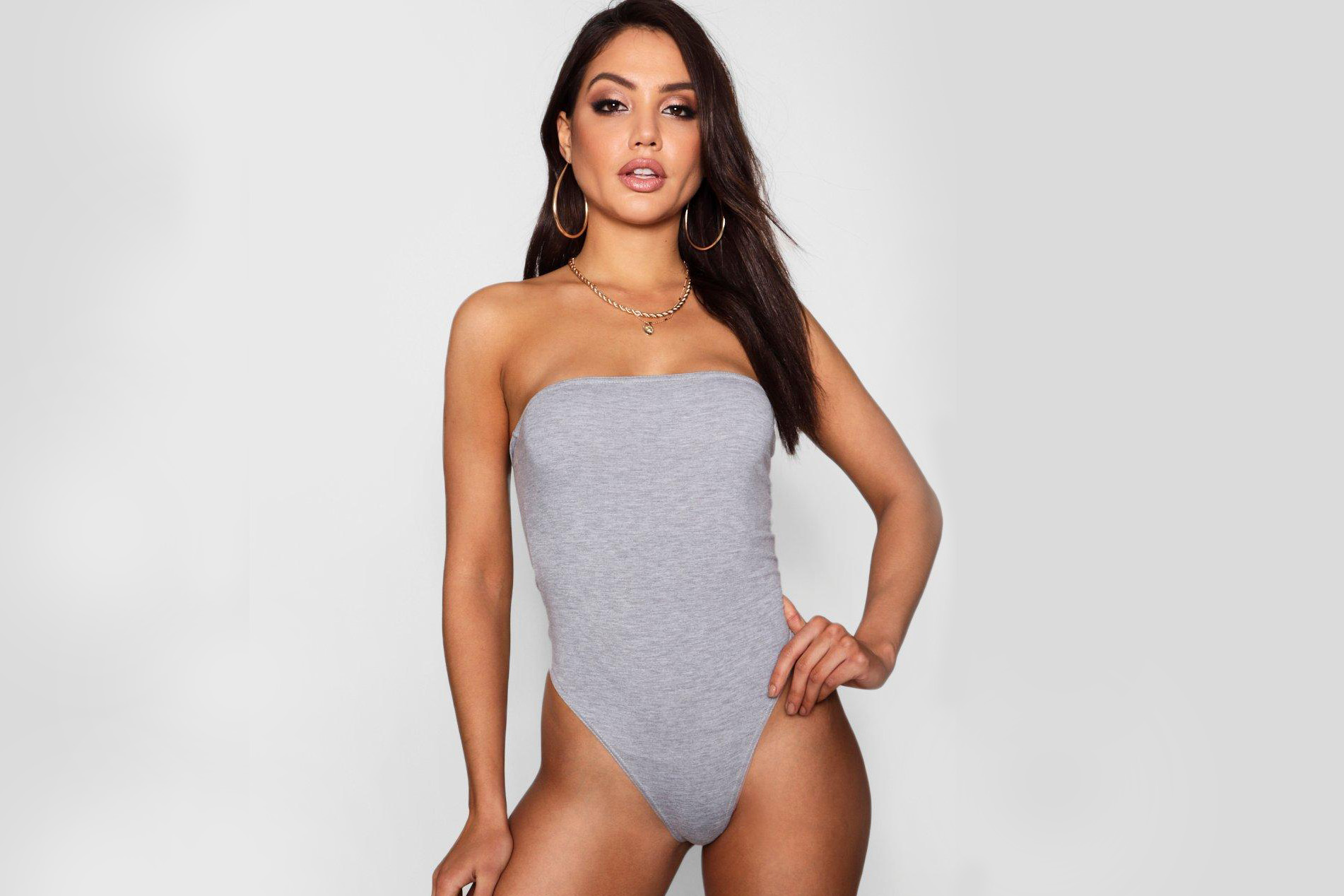 If bunched-up fabric is one of your biggest fashion pet peeves (we hear you), bodysuits are the quick fix you're looking for. It's smooth sailing with this light purple bodysuit—and, okay, this isn't a traditional tube top, but it looks the part, and those annoying fabric bunches no longer exist.