Try "Strong" trainer Leyon Azubuike's seven-step, at-home boxing workout (when you don't have time to hit the gym)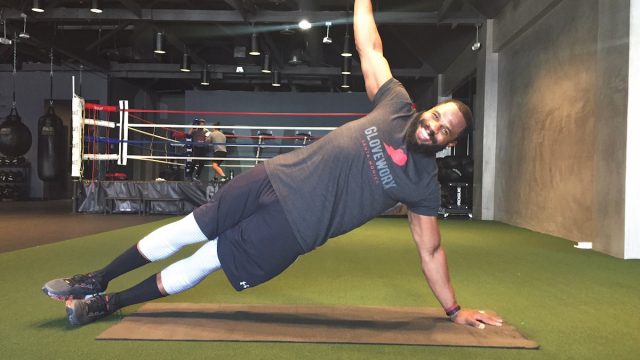 Is it just us, or is the boxing workout craze hitting a record high? A sport that once seemed to be reserved only for the Alis and Pacquiaos of the world now feels like an attainable fitness regimen, at least based on social media feeds across the globe (we see you, Gigi Hadid). And, hello! We want in.
While gloving up is one of the most effective workouts around, we get that the hustle-and-bustle of adulting isn't always accommodating to those class schedules and, depending on where you live, not even a logistical possibility. Don't fret, we got you.
Leyon Azubuike, coach on NBC's Strong and mastermind behind L.A.'s hottest boxing gym, Gloveworx, broke down a seven-step boxer's-inspired workout that you can do basically anytime, anywhere.
Azubuike, who just announced he'll be opening his second gym this fall (complete with a banging athleisure line) at the newly redeveloped Westfield Century City in Los Angeles, has a talent for tailoring his workouts to each client and curating a tribe of other coaches who do the same.
https://www.instagram.com/p/BWQUT7Jlk-i