Would you try a ~mani bomb~ for your hands?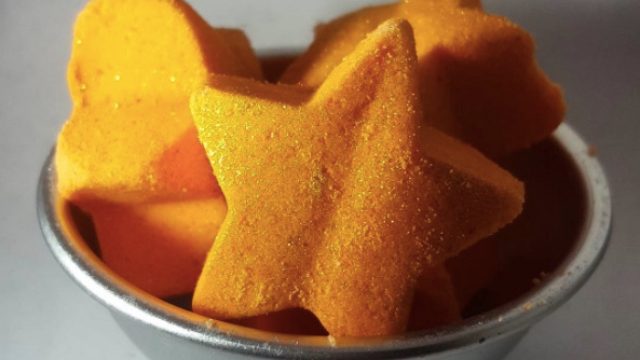 It's been a loooooong year. If you're looking for a way to destress, or just treat yourself, this holiday season, we might have something cool for you. You know those little bath bombs you love? Well, Cosmpolitan has discovered some geniuses out there who have started making mani bombs for your hands! Oh my gosh.
The adorable little bombs are supposed to moisturize and nourish your cuticles as well as the skin around your nails. They can also, like bath bombs, be therapeutic depending on the scent.
Just look how cute they are.
And soooo relaxing, right?
So how exactly are they used? Nail It! Magazine says:
"Fill a medium to large bowl with warm water. Drop the mani bomb in and let it fizz. This is when oils, butters, and salts are released. You can soak while the mani bomb is still fizzing. Rub hands together to exfoliate if the mani bomb has jojoba beads. Soak for 10-15 minutes."
Easy peasy! But to enhance your experience they add the following:
"You don't want to soak for too long. When done, pat hands dry and avoid washing. Right after a soak is prime time to softly push your cuticles back and to add cuticle butter or oil to your nails. Use them up to once a week!"
Look at this super cute snowman bomb.
And eggnog scented ones, too? What.
https://www.instagram.com/p/BMpQ6Idjrgi
We're thinking about treating ourselves this holiday break to some of these bad boys (as well as some regular bath bombs, too, of course). We all deserve it.
[H/T Cosmopolitan]