Trump's Fake News Awards are here, and here's who made the list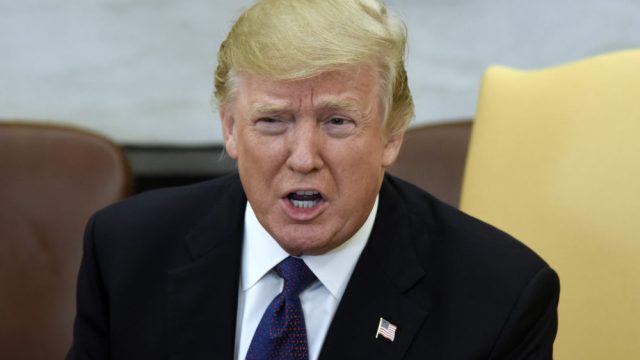 Donald Trump unveiled his promised "Fake News Awards" late Wednesday, January 17th – and to no one's surprise, ABC, CNN, The Washington Post, The New York Times, and Newsweek all made the list. In a tweet announcing, "And the FAKE NEWS winners are…", Trump directed readers to the GOP.com website.
The link, which was broken for much of the evening, listed 10 stories by news outlets Trump claims are guilty of false reporting. In other words, the President of the United States made a listicle. (Slow clap.) The list was complete with photos, tweets, and GIFs which were used as "evidence" to prove why the winners deserved their place on the list.
Here are the top five winners (below are all direct quotes from the Republican party's website):
"1. The New York Times' Paul Krugman — who claimed on the day of President Trump's historic, landslide victory that the economy would never recover."
"2. ABC News' Brian Ross CHOKES and sends markets in a downward spiral with false report."
"3. CNN FALSELY reported that candidate Donald Trump and his son Donald J. Trump, Jr. had access to hacked documents from WikiLeaks."
"4. TIME FALSELY reported that President Trump removed a bust of Martin Luther King, Jr. from the Oval Office."
"5. Washington Post FALSELY reported the President's massive sold-out rally in Pensacola, Florida was empty. Dishonest reporter showed picture of empty arena HOURS before crowd started pouring in."
Check out the full list here.
https://twitter.com/udfredirect/status/953794085751574534
Stephen Colbert, who took out a "For Your Consideration" ad so he could win, was noticeably missing from the list. There's always next year.