Trump just accused Twitter of "shadow banning" Republicans, and here's what that means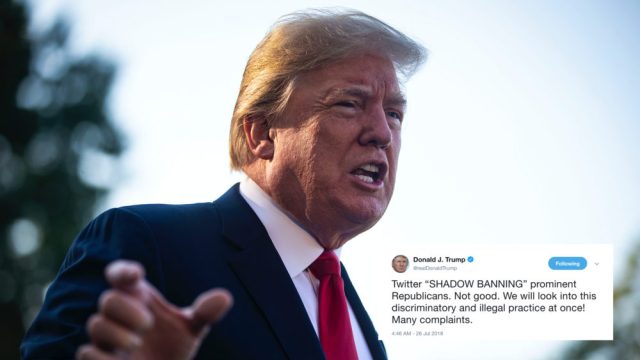 President Donald Trump can often be found complaining about "unfair" treatment at the hand of liberals. And while the 45th president's most regular target is the "fake news media," he's currently lashing out at Twitter…really. Trump claims that the social media site is "shadow banning" Republicans.
In one of his characteristic Twitter tirades this morning, July 26th, the president expressed his outrage over the alleged practice, writing:
"Twitter 'SHADOW BANNING' prominent Republicans. Not good. We will look into this discriminatory and illegal practice at once! Many complaints."
https://twitter.com/udfredirect/status/1022447980408983552
It's likely that Trump read a recent article on Vice News that claims "prominent Republicans" were no longer showing up as suggestions in Twitter's dropdown search. Vice noted that this practice, known as "shadow banning," allows users to keep their accounts open (and allows others to go directly to their page or find them via Google), but it makes them slightly less visible. Republicans affected by this recent change reportedly include Republican Party chair Ronna McDaniel, Donald Trump Jr.'s spokesperson Andrew Surabian, and several Republican Congressmen.
Shadow banning is not a new term, and conservatives have complained about it for several years. A 2016 Breitbart article, for example, accused Twitter of engaging in the practice as a form of "political censorship."
Is Twitter really targeting conservatives?
Kayvon Beykpour, Twitter's product lead, tweeted this morning, July 26th, that the change was the result of a new harassment policy implemented in May that detects and filters accounts with troll-like behavior. According to a Twitter blog post about the policy, flagged users might repeatedly tweet at accounts that don't follow them or create multiple accounts with the same email address. Beykpour noted that the content of tweets — and users' beliefs — don't factor into the algorithm's decision to remove accounts from the search menu.
"To be clear, our behavioral ranking doesn't make judgements based on political views or the substance of tweets," he wrote. "We recently publicly testified to Congress on this topic."
Vice reported on July 26th that Twitter seems to have fixed the problem.
Is shadow banning legal?
In his tweet this morning, Trump referred to the practice as "discriminatory and illegal." But, as the Washington Post points out, as a private company, Twitter is allowed to remove users who violate its policies.
"It may be bad for business, but it's not a violation of the law," the Post notes.
All in all, it's not clear why more Republicans than Democrats seem to have been affected by this new Twitter policy, but this definitely isn't an obvious case of purposeful shadow banning. We'll have to wait to see how this unfolds.