Trump said his State of the Union was the most-watched ever, and lol no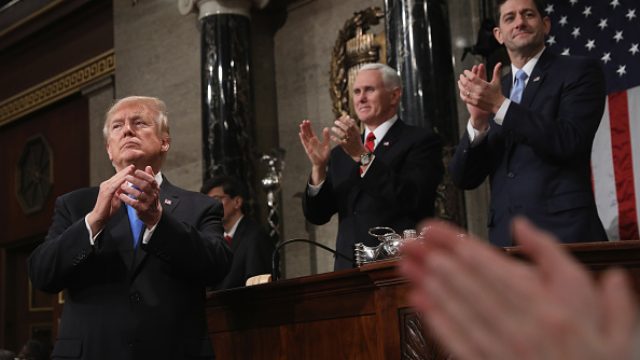 President Donald Trump gave his first State of the Union Address on January 30th. And after the ratings for the speech were released on January 31st, it didn't take long for the 45th president to (incorrectly) brag about how good his State of the Union ratings were.
On February 1st, Trump tweeted that the 45.6 million viewers who tuned in for his address made it the most-watched in history.
"Thank you for all of the nice compliments and reviews on the State of the Union speech. 45.6 million people watched, the highest number in history," Trump gloated. "@FoxNews beat every other Network, for the first time ever, with 11.7 million people tuning in. Delivered from the heart!"
Trump's tweet was correct about some things: The January 30th speech did indeed attract 45.6 million viewers. While initial numbers collected from ABC, CNN, CBS, and Fox showed the president netting 19.8 million viewers, additional networks boosted Trump's numbers in the final tally. And, like Trump said, those who watched on Fox News made up the largest share of viewers, with 11.7 million people tuning in.
But, to be clear, Trump's address definitely did not have "the highest number" of viewers in history. That distinction goes to President Bill Clinton's 1993 address to a joint session of Congress (technically not a State of the Union), which 67 million people tuned in to watch. President George W. Bush's 2003 State of the Union is ranked second, with about 62 million viewers. And President Barack Obama's first State of the Union also beat trumps in terms of audience size.
https://twitter.com/udfredirect/status/959034299222843394
Even Trump himself has beaten this year's State of the Union ratings before. In his first address to Congress in 2017, the current president garnered about 48 million views.
By now, it's not surprising that Trump would lie about something like TV ratings to make himself look good. In January, The Washington Post reported that Trump told more than 1,950 falsehoods during 2017. But while we've come to expect "alternative facts" from this administration, it's still unacceptable for a president to lie to the entire country. It's critical that we continue to call out the government when it spreads misinformation — no matter how often that may be.