Trump's response to the Roy Moore sexual misconduct allegations leaves a lot to be desired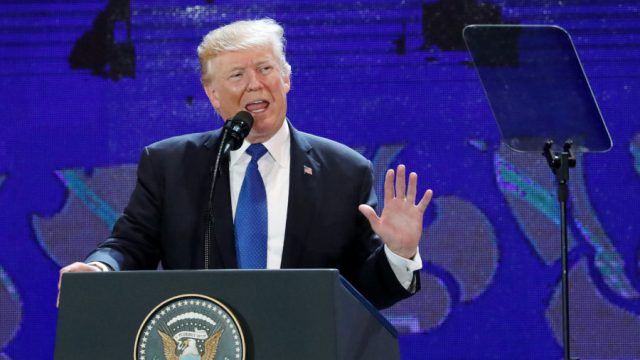 Yesterday, November 9th, it came to light that four women have accused Senate nominee Roy Moore of sexual misconduct. Moore has emphatically denied the charges — which include making sexual advances toward teenagers — but many of his fellow Republicans have already denounced his actions. Trump's press team officially released a statement on Moore as well.
Press Secretary Sarah Huckabee Sanders made a statement on Trump's behalf on Friday, November 10th (they are both abroad in Vietnam).
"Like most Americans, the president believes we cannot allow a mere allegation, in this case, one from many years ago, to destroy a person's life," Sanders said. "However, the president believes that if these allegations are true, Judge Moore will do the right thing and step aside."
Trump supported Moore's opponent, Senator Luther Strange, in the Republican primary. But after Strange's loss, Trump deleted his tweets in support of Strange and declared his support for Moore.
https://twitter.com/udfredirect/status/912994446219898880
Although Trump's response gently encourages Moore to "do the right thing," the president appears to dismiss the seriousness of the situation by calling the accusations "mere allegations." The Trump administration has maintained that the 17 women who have accused Trump of sexual assault are liars, so it's not surprising that the administration has cast doubt on allegations of a similar nature directed at Moore.
In saying that the allegations against Moore could "destroy" his life, the White House is also arguably prioritizing Moore's career over seeking justice for his potential victims. Although it should go without saying, under the Trump administration it does not: No one should get a pass on abuse or misconduct just because the events happened "many years ago."
We need to support women when they say they have been sexually assaulted, and that means taking their allegations seriously. We hope that Moore will indeed do the right thing as this develops.