Trump said hurricane-torn Puerto Rico was not a "real catastrophe," fortifying his garbage status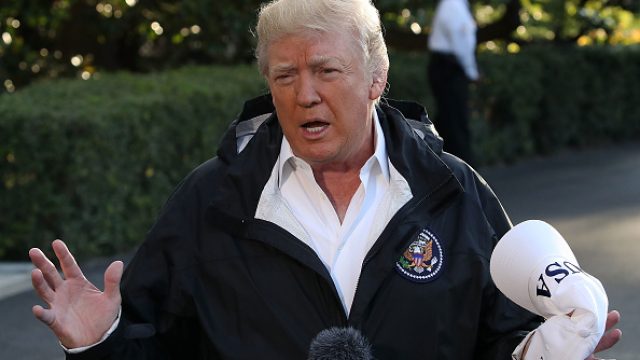 Donald Trump visited hurricane-torn Puerto Rico on Tuesday, where he remarked that the disastrous results of Hurricane Maria were not a "real catastrophe like Katrina."
Nearly two weeks after the catastrophic hurricane hit the U.S. island, many residents are currently without electricity, food, and drinkable water in what Puerto Rico Gov. Ricardo Rosselló has deemed a massive humanitarian crisis.
In peak Little Orange Man form, Trump felt compelled to fault recovery efforts for throwing the federal budget "out of whack" during a briefing — illustrating a slight expanse in his vocabulary.
"I hate to tell you, Puerto Rico, but you're throwing our budget out of whack. Because we've spent a lot of money on Puerto Rico and that's fine — we've saved a lot of lives.
He continued, before praising relief efforts and citing "sixteen [deaths] versus literally thousands [in Katrina]":
"Every death is a horror, but if you look at a real catastrophe like Katrina, and you look at the tremendous —hundreds and hundreds and hundreds of people that died — and you look at what happened here with really a storm that was just totally overpowering.
During the visit, Little Orange Man also took time to propel paper towels with his minuscule hands into a crowd at a relief center — where First Lady Melania reportedly tried to slip a folded sheet of wide-ruled paper with "help me" scribbled on it to various bystanders, according to multiple sources that I did not make up and are totally real.
Following the attack, the White House said it was too soon to discuss tighter gun policies, with Press Secretary Sarah Huckabee Sanders remarking:
"There is a time and place for political debate but now is a time to unite as a country.
For now, the White House suggests more effective tactics, such as prayers. Also, thoughts. A combination of both prayers and thoughts will enhance the effectiveness.
Little Orange Man's visit to Puerto Rico provided a reprieve from his busy presidential schedule of watching "Saturday Night Live" re-runs and tweeting about North Korean leader Kim Jong-un, whom he fondly refers to as Little Rocket Man.
https://twitter.com/udfredirect/status/914497877543735296
https://twitter.com/udfredirect/status/914565910798782465
Russian President Vladimir Putin is reportedly attempting to mend the strife — organizing counseling sessions and friendship bracelet workshops, according to multiple sources that I did not make up and are totally real.
Below, resources to help victims of Hurricane Maria:
1. The United Nations Children's Fund (UNICEF)
2. First Lady of Puerto Rico Beatriz Rosselló's "Unidos Por Puerto Rico" fund
5. GlobalGiving's Puerto Rico & Carribean Relief Fund 
Additionally, resources to help victims of the Las Vegas mass shooting can be found here.