Chrissy Teigen clapped back so hard after Donald Trump mocked the #MeToo movement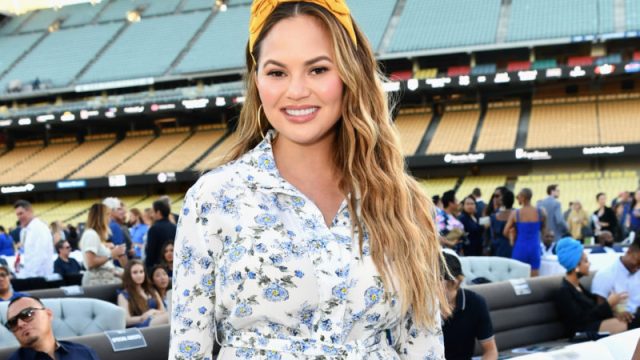 Activist and model Chrissy Teigen often says what we're all thinking, and for that, we thank her. Most recently, Teigen clapped back at Donald Trump for mocking the #MeToo movement, and it was glorious.
Her tweet came in response to Trump's most recent verbal attack on Democratic senator Elizabeth Warren, specifically her claim to Native American heritage. At a Montana rally on July 5th, Trump said he'd like to use a DNA kit to test the claim — but "we have to do it gently because we're in the 'Me Too' generation." Seriously.
"How does this dipshit think 23 and me works?" Teigen tweeted. "Where does he think you swab?"
YASSSS.
The president then went on to tell those at his rally, "We will slowly toss [the swab], hoping it doesn't hit her and injure her arm." To which Teigen wrote:
"And why would you have to toss it? Where is he going with this? his brain is eating itself."
Teigen, who recently spoke at the Keep Families Together rally in Washington D.C. with her newborn baby in tow, is hailed by her followers for unabashed criticism of the current administration. And according to a set of throwback tweets from 2012, Teigen has been against Trump's positions for years.
https://twitter.com/udfredirect/status/261135127055327233
As long as Trump continues to make problematic statements and decisions, we're counting on Chrissy Teigen to continue slaying on Twitter. Keep those tweets coming, girl. We need them.