Trump mocked #MeToo in a speech last night, and we're so very tired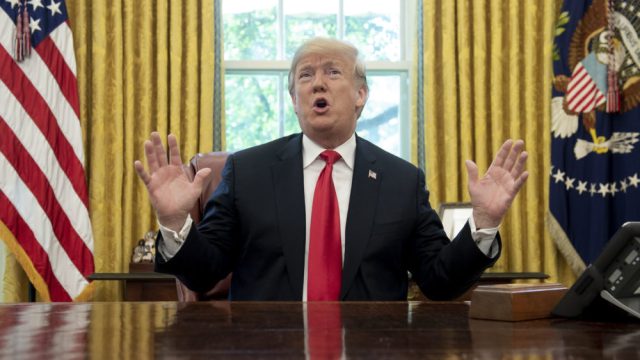 Time and time again, President Donald Trump has mocked the #MeToo movement and belittled those who say they have been sexually harassed or assaulted. So we were disgusted—but not surprised—to hear that the president joked about the "rules" of the #MeToo movement at a recent rally.
CNN reports that at an October 10th rally in Erie, Pennsylvania, Trump complained that he wasn't "allowed" to use the expression "the woman who got away" because of #MeToo. He made the comment in reference to his 2016 victory in Pennsylvania, saying that Republicans had previously lost the state despite expectations to the contrary.
"I used an expression—you know, there's an expression but under the rules of MeToo I'm not allowed to use that expression anymore. I can't do it," Trump said.
For the record, the expression isn't the "woman" who got away, but the "one" who got away, proving Trump's ignorance knows no bounds. Ultimately, the president made a big show of using the gender-neutral expression "person who got away" instead (again, you could have just used "one," sir).
"So there is an expression, but we'll change the expression: Pennsylvania was always the person who got away, that's pretty good, right, the person that got away?" Trump said.
https://www.youtube.com/watch?v=EnocEM9tjnA?feature=oembed
Trump's latest remarks about #MeToo come not long after he belittled Christine Blasey Ford, one of the women who accused Supreme Court Justice Brett Kavanaugh of sexual assault, during an October 2nd rally. The president accused Ford of lying and said that it's a "very scary time for young men in America"—a comment that drew sharp criticism from anti-sexual assault activists. He had previously cast doubt on Ford's allegations on Twitter, arguing that she should have come forward sooner.
https://twitter.com/udfredirect/status/1043126336473055235
Trump's history of making light of sexual assault dates back well before the Kavanaugh accusations and the #MeToo movement. As ABC News notes, at least 16 women have accused the current president of sexual assault since 2016, and he has insisted that his accusers are lying.
The country—and survivors—deserve so much better.