Trump is bringing back private prisons for ICE detainees, which is worse than a wall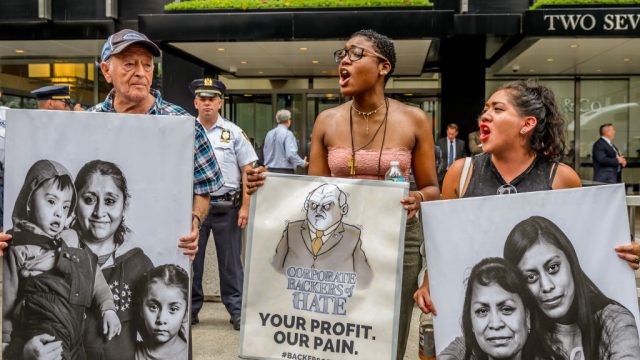 Just because Donald Trump's cartoonish idea to build a border wall all around the U.S. isn't actually going to happen, that doesn't meant that he's not "handling" the immigration "problem." Actually, he's doing something worse than building a border wall: Trump's administration has brought back private prisons for ICE detainees, even though the Justice Department found last year that private prisons were less safe, less sanitary, and even less cost effective than other kinds of prisons.
It's incredibly bad, and there might not really be anything we can do about it.
Back in August 2016, the Obama administration decided to end the federal government's contracts with various private prison companies — such as the Corrections Corporation of America, the GEO Group, and Management and Training Corporation — after the Justice Department filed a report that those private prisons were less safe for inmates. Things were much worse in contracted prison companies.
Hand to hand violence was 28 percent more likely to occur in one of the private facilities than one run by the federal prison agency, the Bureau of Prisons. There were also more weapons and cell phones found on inmates, more lockdowns, and more "creative" forms of punishment such as solitary confinement. They were also just not as cheap as they were expected to be. "You get what you pay for," Deputy Attorney General Sally Yates said at the time, and not in a good way. When she called for an end to those contracts, it only affected 13 private, federal prisons, but it also sent a strong message that prisons run by these companies just weren't up to par with our standards.
https://www.youtube.com/watch?v=7mJaiNEv09k?feature=oembed
But then, in February 2017, Attorney General Jeff Sessions decided that the federal government would reinstate the contracts with private prison companies. According to Reuters, shares of the two leading U.S. private prison companies went up just after Sessions' announcement, with the GEO Group Inc up 2.15 percent and CoreCivic Inc up 3.44 percent by the end of the same day. This shouldn't surprise you, but both of those companies also donated over $250,000 to the Trump inaugural festivities!
So what does this have to do with ICE detainees? Everything.
Once Trump was elected, shares in the same private prison companies continued to rise, with the expectation that his stance of cracking down on undocumented immigrants would lead to an increased need to house them while they awaited deportation — and they'd be right. According to NPR, ICE has called for five new detention facilities to be built by prison corporations all over the country.
https://www.youtube.com/watch?v=twEDTFFBsuY?feature=oembed
One of the largest facilities is the Joe Corley Detention Facility outside of Houston, Texas, owned by the GEO Group. ICE pays just $32 million a year to just this facility to house and feed a thousand detainees. (In all, ICE spends $2 billion a year on private immigrant detention centers.) This facility does not have a great reputation.
One ex-detainee, for example, has brought a civil suit against GEO Group, alleging that their medical staff "laughed" off his report of sexual assault while in their facility. He also claimed to be "forced" to do labor while in the detention center. He's not alone: There are two class action lawsuits right now alleging that undocumented immigrants were forced to do labor, breaking anti-slavery laws, while at these private detention facilities. Prison reform advocates suggest that some private prison companies cut costs by having inmates cook and clean. The GEO Group refuted these allegations in a statement to NPR, writing:
"GEO has a long history of providing culturally responsive services in safe and humane environments that meet the needs of individuals in the care and custody of federal immigration authorities as confirmed in the U.S. Department of Homeland Security Advisory Council report in 2016 on privately operated ICE facilities. As a matter of long-standing policy, GEO does not take a position on or advocate for or against any immigration policies, such as the basis for an individual's detention or the length of detention."
https://www.youtube.com/watch?v=MfYzpUihHck?feature=oembed
So the Trump administration has commissioned five more of these hellholes. ICE has also asked to increase its space for detainees by 25 percent in their most recent budget request. The American Civil Liberties Union basically begged the administration to not open these facilities. Lorella Praeli, director of immigration policy and campaigns at the ACLU said in a statement:
"ICE's intention to expand detention in areas surrounding four of the nation's largest cities is deeply disturbing. This move represents further action by the Trump administration to target long term residents, including Dreamers, asylum seekers fleeing persecution in their home countries, and other immigrant communities. The ICE detention system is already notorious for inhumane and abusive conditions as well as lack of transparency and accountability."
https://www.youtube.com/watch?v=6IG9PW-Cyus?feature=oembed
Deportation rates are likely down for a number of reasons. Experts suggest that Trump's stated plans during the 2016 campaign might have deterred people from crossing the border or going underground before he came into office. ICE is now removing about 16,000 undocumented immigrants a month, according to the most recent data. The Obama administration removed about 34,000 a month at its peak. However, because of Trump's loosened guidelines about who ICE can arrest, the agency is rounding up 34 percent more undocumented immigrants than were arrested under Obama.
But ICE is also mostly arresting people who don't have former criminal charges, who are just simply undocumented and working. Though deporting undocumented immigrants with or without criminal backgrounds is not easy, especially given the current backlog of immigrant cases in the federal court system.
https://www.youtube.com/watch?v=w6Tt1Tu-9lU?feature=oembed
Which means that immigrants could theoretically sit in these private detention centers for years before actually being deported. And 88,000 of those cases involve undocumented kids under 18 years old. Most of these children don't even have access to lawyers to guide them through the process. The Trump administration also rolled back an Obama-era memo that fast-tracked undocumented kids through the system, since you know, unaccompanied minors are a priority. "The cases of these unaccompanied children, whether pending or newly filed, will no longer be case processing priorities," the Trump administration announced just days after the inauguration.
So not only was Trump wrong about *all* undocumented immigrants being criminals, his administration made sweet deals with private prison companies that are known to be dangerous to house all of the immigrants ICE is arresting. And then they're just leaving them there essentially, and American taxpayers are footing the bill. No matter where you come down on immigration, what's happening right now is offensive all around.
https://www.youtube.com/watch?v=te3MICusoRk?feature=oembed
This is yet another example of the administration's lack of foresight when it comes to policy. It's one thing to say you want to crack down on immigration, but to not have procedures in place to process all these increased arrests is shameful. So is enlisting private prisons that don't value inmates' civil rights or safety over their stock prices.
Since all of this happens at an executive level with stupid memos passed from one agency to another overturning old guidelines and recommendations, it's not like we can convince Congress to help. You can donate to agencies that helping these inmates through, such as the ACLU or the Southern Poverty Law Center, which is helping undocumented detainees pro-bono with legal services. If private prisons are dangerous for inmates who are American citizens, just imagine how terrifying it must be to not have any documents at all and make your way through the system.