Trump is expected to end the DACA program — here's what that means for undocumented immigrants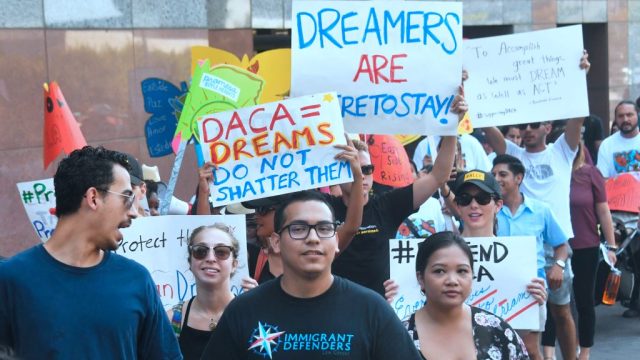 Just when you thought the Trump administration couldn't go any lower, news broke late Sunday that Donald Trump is likely going to end the DACA program, which could essentially uproot the lives of over 800,000 people.
DACA, or Deferred Action for Childhood Arrivals, is an Obama-era program that allows some undocumented individuals who were brought to the U.S. as children to register for a renewable two-year period of deferred action on deportation, and also makes Dreamers, as enrollees are known, eligible for a work permit. Under increasing pressure from his base, and Attorney General Jeff Sessions, Trump is expected to officially announce the end of the DACA program on Tuesday.
This is terrifying news for undocumented immigrants, though Politico reported that Trump will announce the ending of the program along with a six month window of time to essentially pass the buck to Congress. There, legislators would be expected to come up with a new program or some sort of compromise. This six month window was reportedly a concession by some Republicans to those lawmakers who are against repealing DACA.
This is what Republicans have always wanted in some way. When Obama enacted DACA, he used his executive power, which some lawmakers thought was an overreach; they say immigration policy should only be made by Congress, and not by the executive branch.
So when, or if, Trump makes an announcement tomorrow about scrapping DACA, nothing will happen immediately. Much like with the health care bill or the travel ban, this is the time to go into overdrive and get hardcore about telling your representatives how you feel about the program. Repealing DACA would excite Trump supporters who were still hoping for a border wall and appease the 10 state attorneys general who reportedly were pressuring the president into make a decision about Dreamers.
The thing is, no one really knows what will happen to undocumented immigrants if the Republicans have their way with DACA. People could be deported. Families would be torn apart. According to the Center for American Progress, the 800,000 Dreamers would slowly lose their jobs. It would be devastating for American culture and the economy to lose all of that human potential. The cost of deportation has also been estimated to cost around $8.5 BILLION, according to The Washington Post. So much for cutting pork from the budget.
https://www.youtube.com/watch?v=9M2H98wb0Es?feature=oembed
It's cruel, especially since DACA is hardly perfect. The program allows young immigrants, who crossed the border with their families and likely didn't really have much of a choice, to relax a bit and focus on passing high school, applying and enrolling in universities, and getting jobs. But it's not exactly a road to citizenship, and it doesn't establish permanent residence. That all has to be done the same old way once a person no longer qualifies as a Dreamer, so it's not really clear how much more of a compromise Trump supporters want.
One thing we do know? DACA empowers people. It allows Dreamers to get a credit card, and open a bank account. According to CNN, Dreamers start businesses and buy homes, just like immigrants to America have always done. (Trump's dad, too!)
https://www.youtube.com/watch?v=QJCyApAugdY?feature=oembed
Hopefully, Trump will change his mind before making an official announcement. Because putting politics above people's lives is not something a president should make a habit of doing. In the meantime, Congress has six months to stand up for what's right.