Trump defended Roy Moore despite the sexual assault allegations against him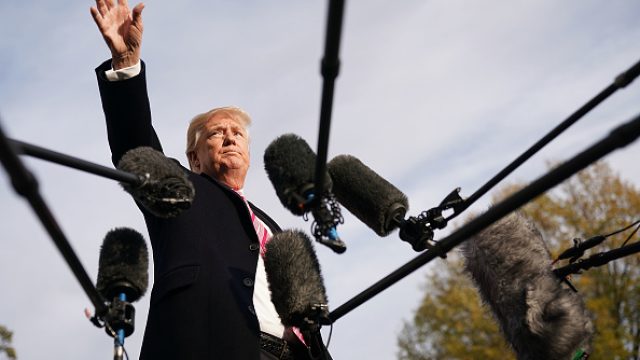 President Donald Trump has long maintained that the seventeen women who accuse him of sexual assault are liars. And now, it appears Trump has taken a similar position when it comes to the allegations against Alabama Senate candidate Roy Moore.
Before departing the White House for Mar-a-Lago on Tuesday, Trump defended Moore amid sexual assault allegations to reporters, saying Moore's denial of the events should be taken seriously.
"If you look at what is really going on here and what has happened over the last 48 hours, he totally denies it," Trump said. "He says it didn't happen. And you know, you have to listen to him also."
But more than accepting Moore's denial, Trump appears to have all but endorsed Moore for Senate. He attacked Moore's opponent, Democrat Doug Jones, saying that Jones would be bad for the military.
"We don't need a liberal person in there, a Democrat, Jones. I've looked at his record. It's terrible on crime. It's terrible on the border. It's terrible on military," Trump said. "I can tell you for a fact we do not need someone who's going to be bad on crime, bad on borders, bad for the military, bad for the Second Amendment."
Kellyanne Conway, counselor to the president, tweeted that Trump's opposition to Jones does not mean he endorses Moore.
The Washington Post first published the charges that Moore pursued teenage girls when he was in his 30s. At the time, Trump responded to the allegations by saying that Moore should end his campaign if the allegations were true, while asserting in the same breath that Moore's career shouldn't be hurt by the allegations. Other high-profile Republicans in Washington, such as Senate majority leader Mitch McConnell, have urged Moore to withdraw from the race.
Although Trump has not technically endorsed anyone in the Alabama senate race, his public criticism of Jones implies Trump will support Moore. Moore has not addressed the multiple allegations that he pursued teenagers romantically when he was in his 30s since his radio interview with Sean Hannity.