Tropicália Festival is where you can dance to Latinx jams and eat free tacos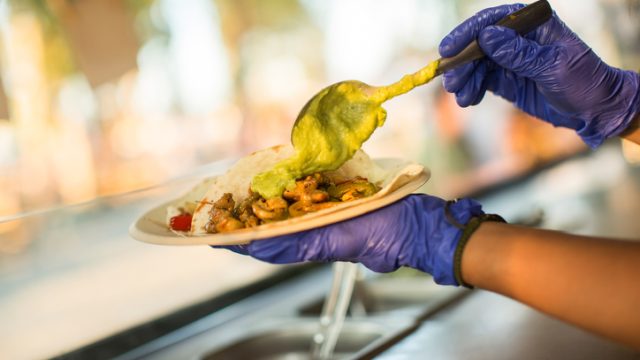 Imagine the perfect, mid-fall afternoon. It's overcast and there's a slight breeze. You smell a fire burning in the distance as you dig your hands deeper into the sleeves of your favorite sweater. There are some Latinx jams playing in the background, and you're on the way to get free tacos. It truly is the perfect afternoon, and the best part is that it can be a reality, too.
Thanks to Tropicália Festival, you can listen to musicians like headliners Chicano Batman and Kali Uchis — all while eating free tacos. The Los Angeles festival is making its debut November 11th, and we're already getting our stomachs and wallets ready.
The festival is literally called a "taco and music festival," so all of our hopes and dreams have officially come true.
Since this festival has all types of music, from psychedelic rock to cumbia to R&B, there's sure to be something for everyone at Tropicália. Oh, and did we mention free tacos? You can never mention that too many times. But vegans and vegetarians, fear not! The L.A.-based taco vendors will accommodate any dietary restrictions. If you are showing up for the tacos, just make sure you get to the festival early, because they'll only be free until 4 p.m.
People are already getting excited for the festival, and it's not too early — since tickets go on sale this Friday. The only thing that could make this better? According to one Twitter user, if J Balvin and Daddy Yankee crashed. We'd just like to throw Luis Fonsi in there, so we can get all the jams together.
Tickets go on sale this Friday, August 25th at 10 a.m., so head on over for tacos, jams, and plenty of dancing.