Troian Bellisario opened up about her struggle with anorexia and the "punishing voice in her head"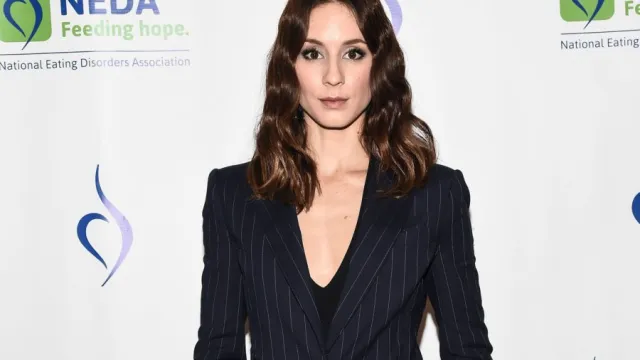 Now that Pretty Little Liars is over, actress Troian Bellisario is moving on to the next stage of her career. Her first post-PLL project is a movie called Feed, about a young woman's struggle with anorexia. Troian just opened up about her own struggles with mental illness and anorexia in an essay for Lenny Letter, revealing that she once went through a period of eating  only 300 calories a day. Needless to say, we so admire Troian for speaking out about these extremely personal issues.
Troian wrote specifically about the "punishing voice in her head" that she fought while growing up. She revealed that anorexia — which is as much a mental illness as a physical one — "almost killed" her.
In her essay, Troian discussed how mental illness forced her to "deny her body" the ability to take care of itself.
"There is a part of my brain that defies logic," she wrote. "Once, it completely convinced me I should live off 300 calories a day, and at some point, it told me even that was too much. That part of my brain is my disease, and there was a time when it had absolute authority over me."
She went on to write, "It almost killed me, and you can see that even though I have lived in recovery for ten years now, it still finds loads of fun, insidious ways to thwart me to this day. It was a difficult journey finding my way back to health. Through hard introspection, intense medical and mental care, a supportive family, friends, and a patient and loving partner, I survived, which is rare."
Though she's in active recovery, Troian said that she has to fight the voice inside her head that tells her she isn't enough every single day. "Sometimes I still find myself being pushed by an invisible taskmaster, working to the point of exhaustion, swimming with numb toes. The voice of my disease is with me every day. I am practiced at ignoring it, for the most part, but it's still there, finding new ways to undermine me."
Troian explained that she wrote, directed, and starred in Feed as a way to "channel that voice into a story" and "to create a character who also wondered how she could be enough."
We are heartbroken to hear about her struggle, but so thankful that she is opening up about her experiences, hopefully making fellow sufferers feel a little less alone. Mental illness and eating disorders are incredibly isolating, and we applaud Troian for using her voice as an advocate for those out there struggling with similar issues.