Trixie Mattel and Katya tell us about their new Viceland show, the women who influenced their comedy, and their favorite cult movies
Standing between two statuesque drag queens — one in a pink bell-bottomed jumpsuit and cartoonishly large Dolly Parton-style wig; the other in a red trench coat and leather leotard with sheer panels, prosthetic boobs exposed in all their glory— was likely the highlight of my journalistic career life. Because we're talking about Trixie Mattel and Katya Zamolodchikova here, aka two of the most iconic queens to have ever sashayed through RuPaul's Drag Race. Fan favorites from Season 7 (Katya won Miss Congeniality and Trixie is set to appear in RuPaul's Drag Race All Stars 3), their undeniable comedic chemistry led to the creation of their popular YouTube web series from WOWPresents, UNHhhh, in 2016. On each episode, Trixie and Katya tackled a specific (and random) topic — high school, space, time, plastic surgery, the '90s, Jodie Foster's film Contact…the list goes on for nearly 70 episodes — with the witticisms and absurdity that have made them such beloved drag stars.
And now, Trixie and Katya have their own television series on Viceland, The Trixie & Katya Show.
Airing on Wednesdays at 10 p.m., The Trixie & Katya Show's format is similar to UNHhhh, with the addition of a man-on-the-street segment starring Trixie and Katya out of drag and as themselves, Brian and Brian. Their Viceland series premiered on November 15th and has already covered topics like hooking up, death, and porn, with all of the fast-paced editing, trippy visuals, and legendary catchphrases you'd expect.
]I interviewed Trixie and Katya at The WowPresents Space in West Hollywood right before they performed in a live show, Trixie & Katya UnPlugged. Their live performance that night was inspired by MTV's Unplugged series. Katya gifted us with a hilarious spoken word piece, "The Night Before Contact" (which appears on Trixie's holiday album, Homemade Christmas, out December 1st), and also performed as a "rapstress" participating in the For the D Challenge. Trixie dazzled the audience with her musical talent in a country version of RuPaul's "Cover Girl," an acoustic mashup of Stevie Nicks' "Landslide" and Avril Lavigne's "Sk8er Boi," and a stunning autoharp performance.
(And, lucky for you, you can watch the entire UnPlugged show on YouTube in three parts here, here, and here.)
During their performance, Katya summed up their Viceland series: "If you want advice from clowns on acid, that's the show." And in a slightly more serious moment, Trixie mentioned the important symbolism of their new series in our current political climate: "We have drag queens on television, and that's great."
Read on for my conversation with Trixie and Katya, and get their thoughts on comedic influences, cult movies, and more.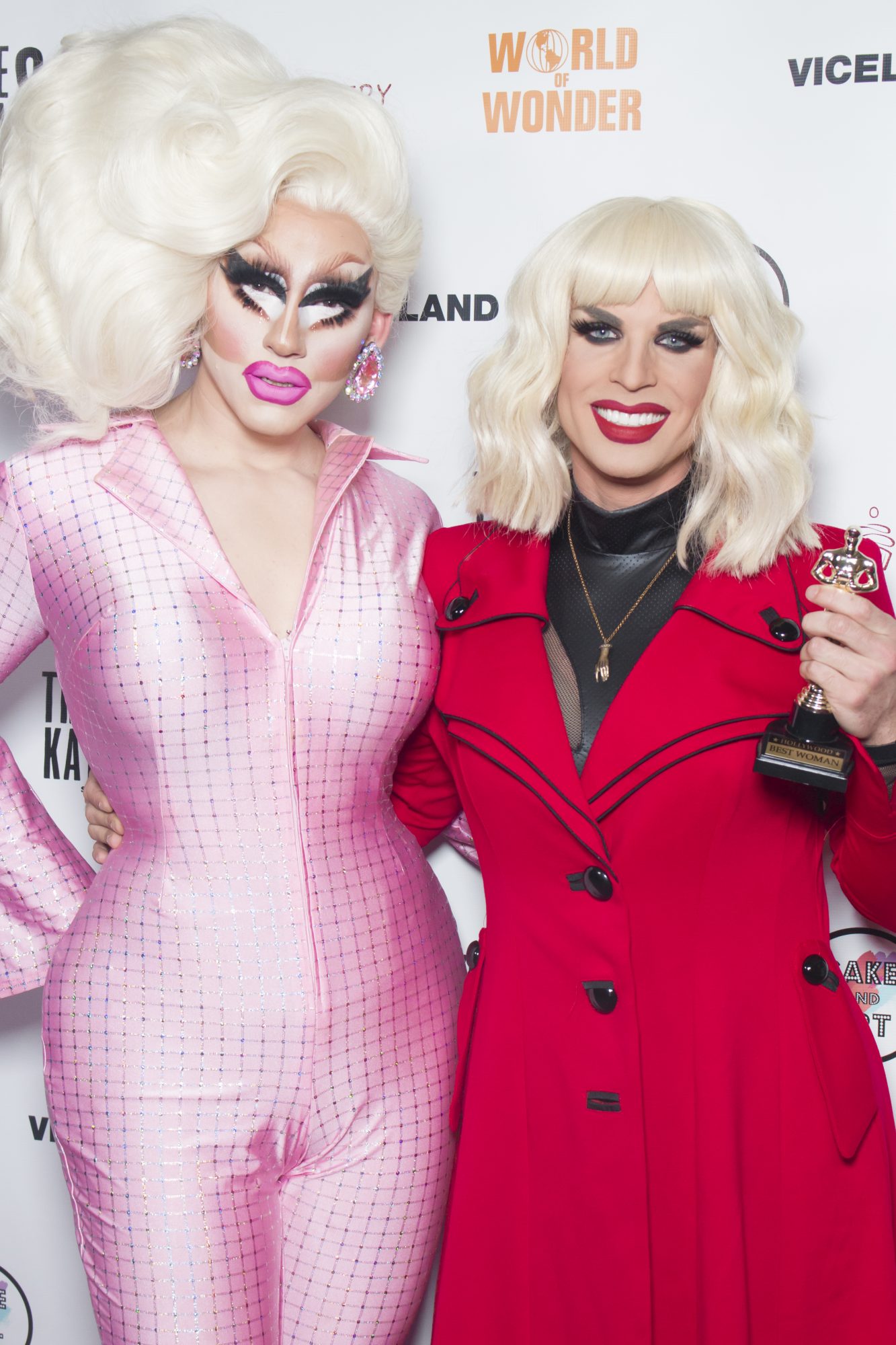 HelloGiggles (HG): Moving from YouTube to your own TV show on Viceland is huge. What do you imagine happening next?
Trixie (T): I hope to get rich and Caucasian enough to start using those Jessica Alba baby wipes…and I want a clear squatty potty.
Katya (K): I already have my Boll & Branch sheets. My website is fucking made from Squarespace… I'm just waiting on my damn Audible subscription.
HG: You're discussing topics like hooking up, death, and porn on the show. What are some other subjects you're hoping to cover?
T: We've gotta meet some of our Viceland audience halfway. What if we talk about NASCAR? We need to talk about smoking a bowl and Dale Earnhardt, Jr.
K: Bong Appétit, bitch.
HG:Who are some of your comedic influences?
T: This idiot standing to your left [Katya]. I remember when I was little I watched Ellen DeGeneres's special, Here and Now. Remember, she's in the blue sweater with the blue background? She's so funny. She never sweared or talked about bad stuff — which is kind of the opposite of what I do now…but that was a moment where I could see that, "Oh, some people can do comedy."
K: You know who I have to thank for what this [*gestures to her outfit*] is right now? I just realized this, and I'm not joking: Sandra Bernhard in a sheer dress, totally pregnant, while I was watching [her HBO comedy special] on the floor of my parents' living room on acid. She was, like, nine months pregnant with a sheer dress on. I swear to God that was one of her specials.
T: And Sarah Silverman's Jesus is Magic. That's when it occurred to me that you could play guitar in your standup. I love her.
K: All mine are women. All of 'em.
T: Honestly, mine too. Although I do also enjoy Ari Shaffir.
HG: You recently recreated Romy and Michele's High School Reunion on stage in one of Peaches Christ's live shows in San Francisco. What are some other movies you want to recreate on stage?
K: I want to do Soapdish [a 1991 comedy starring Sally Field in which a television soap opera actress attempts sabotaging her co-star].
T: I want to do Dunston Checks In. Remember that VHS? I'd also like to perform Harriet the Spy. You think Michelle Trachtenberg would be down? I saw her at The Grove once. And I'd love to do something Saved by the Bell-related.
K: And I still really want to do Soapdish. It bears repeating. I'm putting it into the universe.
T: What about Don't Tell Mom The Babysitter's Been Dead for Years? A Sixth Sense crossover!
K: Or Don't Tell Mom The Babysitter's a Dude! An Aerosmith crossover.
T: That's just Mrs. Doubtfire. (both laugh)
K: Don't Tell Mom The Babysitter's Your Dad!
HG: Trixie, have you watched Contact yet?
T: I have not watched Contact yet because whatever it's been drummed up to be in my mind… I can't ruin it. What if I like it? What if I, like, have to swallow my pride?
K: It's a fine movie! It's a B+! I hope Robert Zemeckis doesn't get mad about that.
T: I will tell you this though. I have about 15 DVDs, a Blu-ray, and a VHS because people continue to give it to me.
K: Do you know that probably, in the mythology of our friendship, what's gonna happen is she'll watch it and die halfway through.
T: Or I'll love it and call you crying like, "You were right!"
K: And then I'll be like, girl, Arrival is so much better. Click.
T: It's never gonna outdo [Jodie Foster] in Silence of the Lambs though.
K: Did I ever say that?
T: Oh, and Nell.
T & K, simultaneously: We want to do Nell on stage.
Watch The Trixie & Katya Show on Viceland, Wednesdays at 10 p.m.