How trivia nights saved me from loneliness in a new city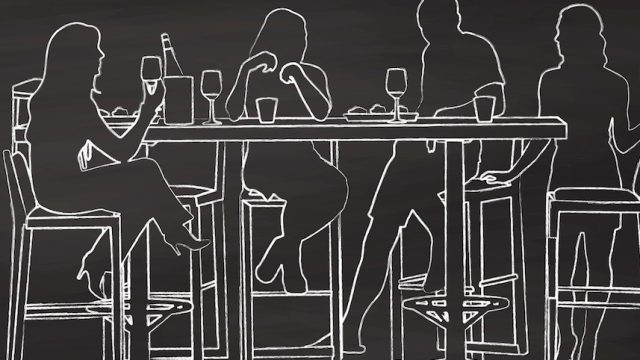 Finding love (or mutual lust) as an adult is hard, but finding new friends as an adult is even harder. Sure, there are times when being single sucks, but if you can't find a date, everyone assumes you just haven't met the right person. But if you can't find friends, people assume that you must be too weird, or too mean, or too boring. There must be something wrong with you.
It's especially hard when, say, you move from London to Chicago to get married, leaving behind your social circle for a city where you and your new husband don't know anybody and where you can't work for six months while you wait for a permit. Which is what I did.
I arrived in the U.S. in September 2016, and for the first couple of months, the only social interactions I had were with my husband John, our doorman Greg, and the cashiers in the local grocery store. I'm super shy when I first meet people, but I did the things you're supposed to do: I tried joining a monthly book club, but as it got colder, the 45 minute ride on the L Train didn't seem worth it for the stilted awkwardness of the meetings. My husband and I are big trivia fans and looked for a trivia night. The one we found was so empty that we gave up almost immediately after we arrived.
As an introvert, I'm good at being alone, but I started to get really lonely. The lowest point came when I was out running one November night. It was dark, the park was empty, and the only sign of life—the city skyline twinkled in the distance.
I looked at the buildings, which seemed close enough to touch but still unreachable, and it hit me that only one person in the entire city even knew my name.
A few weeks later, John and I went to a local bar for a drink. There was a guy was strumming a guitar in one corner, battling to be heard over a group of college students playing a game of giant Jenga. It was a jovial atmosphere, but listening to groups of friends laugh at inside jokes rubbed my own sense of isolation in my face.
Right before we were about to leave, a woman about my age approached me. She had an eager smile that instantly made me like her. Shouting over the last few lines of "Wonderwall," she asked me something about the Knicks. I told her I was English, I'd just moved here, and my only reference point for the Knicks was from Friends episodes. Her natural warmth broke any ice, and soon we were playing Jenna (I learned her name) and her boyfriend Bryan at beer pong. My husband and I lost, but the four of us kept talking. At the end of the night, we went home with two new Facebook friends and the promise of meeting up again.
It turned out Bryan and Jenna were really into trivia too, and they actually knew where to play. We arranged to meet up for a quiz night, and while that might sound like a happy ending, it was still nerve-wracking: Taking one alcohol-fueled interaction into a brand new sober situation doesn't always work out (just like dating). Luckily, we not only won, we realized that we were a great team. We listened to each other's ideas, got frustrated with difficult questions but not with each other, and managed (eventually) to laugh when we got things wrong. Without us even really discussing it, trivia became a weekly event.
Having that running appointment gave me something to focus on when I felt alone, and forced me to come out of the shell I'd been growing to protect myself from loneliness.
Trivia teams and friendships both benefit from a diversity of experience.
As the Knicks conversation implies, I know nothing about American sports, whereas Bryan can probably tell you which team won the Super Bowl in 1983 and what the final score was. I'm a history and literature nerd, whereas he's not particularly into reading. Jenna has any music history from the 1990s through the 2000s down, while John can draw a map of every continent and identify a movie from a three-word quote.
Talking to people with totally different interests but shared humor and competitiveness reminded me that friends don't have to be exactly like each other.
Being on a trivia team, in particular, makes you appreciate and admire other people for what they know that you don't, and how you complement each other by not being the same.
***
Nearly two years later, we still go to trivia every week and the group has expanded to let in even more funny, smart, and kind people. Sometimes we win, often we lose, but week by week we've evolved from acquaintances to real friends. We've met each other's families, celebrated births, learned how to tease each other mercilessly, and we're even going to Jenna and Bryan's wedding this summer. There's no big secret to making friends in a new city, no magic formula. But if someone comes up to you with a big smile and an open attitude, say yes to playing beer pong with them; the effect on your life might be far from trivial.