The father of Khloé Kardashian's baby left a special comment on her pregnancy announcement
For months, we've been waiting and waiting for Khloé Kardashian to officially announce her pregnancy. Finally, our patience paid off. Yesterday, December 20th, the mom-to-be showed off her baby bump on Instagram, and the baby's father, Khloé's beau Tristan Thompson, left the sweetest comment on her post. We're jumping for joy and swooning all at the same time.
"My greatest dream realized! We are having a baby!" Khloé wrote in her pregnancy announcement's caption. She continued, "I still at times can't believe that our love created life! Tristan, thank you for loving me the way that you do! Thank you for treating me like a Queen! Thank you for making me feel beautiful at all stages! Tristan, most of all, Thank you for making me a MOMMY!!!"
Thompson echoed Khloé's excitement in a comment he left on her Instagram post. He revealed how grateful he is that Khloé let him into her life after they first met at the Bel-Air hotel, describing their first meeting as one of the best moments of his life.
"I'm soo happy to be on this journey together with you and creating this angel from the man above. Everyday I give thanks to him for bring[ing] us together," Thompson wrote.
He continued, "I love you soo much and I know our little angel feels the love we share together and will know that mommy and daddy loves them unconditional[ly] forever and ever amen."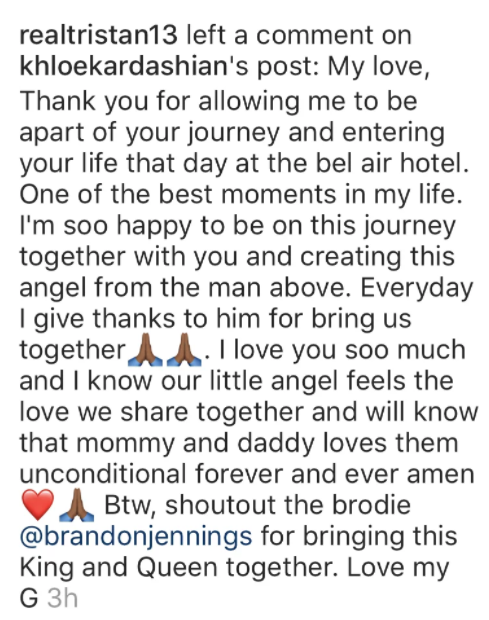 Thompson also gave a shout-out to fellow NBA player Brandon Jennings, who introduced him to the reality star.
"I am so thankful, excited, nervous, eager, overjoyed and scared all in one! But it's the best bundle of feelings I've ever felt in my life!" Khloé concluded on Instagram.
We're sending nothing but congratulations and love to Thompson and Khloé as they embark on this new, exciting journey.