Was Tristan Thompson in the delivery room when Khloé Kardashian gave birth? Here's what we know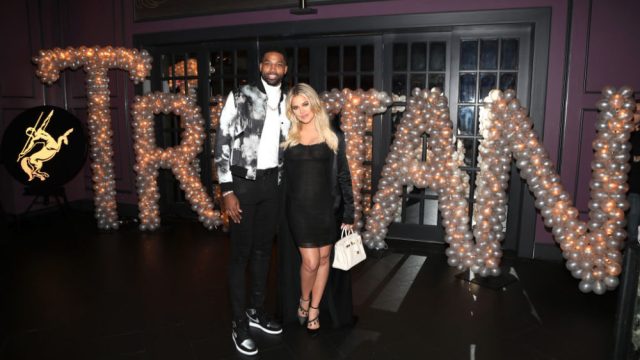 It's official: Khloé Kardashian is a mother: The Keeping Up with the Kardashians star has welcomed her first child with her boyfriend, Tristan Thompson. The 33-year-old gave birth to a daughter today, April 12th.
Although there's been no official word from the Kardashians yet, TMZ reported that Khloé's new baby was born around 4 a.m. at a Cleveland-area hospital. According to the website, Khloé was surrounded by loved ones during the delivery, including her best friend Malika, mother Kris, and sisters Kourtney and Kim. TMZ also reported that Thompson was there, too.
Thompson's presence in the delivery room was drawn into question after rumors emerged that he had cheated on Khloé in October 2017 and as recently as this past weekend. Many questioned how the soon-to-be mother would react to the allegations, and an anonymous source told Entertainment Tonight that Khloé was "devastated" by the reports. But Khloé has not officially addressed her boyfriend's alleged cheating.
The couple has been together since 2016, when they publicly announced their relationship on Jimmy Kimmel Live!. The professional basketball player has one other child in addition to his new daughter with Khloé, a one-year-old son with ex-girlfriend Jordan Craig. Although rumors have circled that the couple would get married now that they have a child together, it's unclear how Thompson's alleged affairs will affect this.
Between the rumors of her boyfriend's affair and the birth of her first child, it's an emotional time for Khloé, and we'll respect her privacy in the days to come. But for now, we're sending all our love to this new mom. We wish her all the happiness with her baby girl.