Fans booed Tristan Thompson at his most recent basketball game amid rumors of cheating on Khloé Kardashian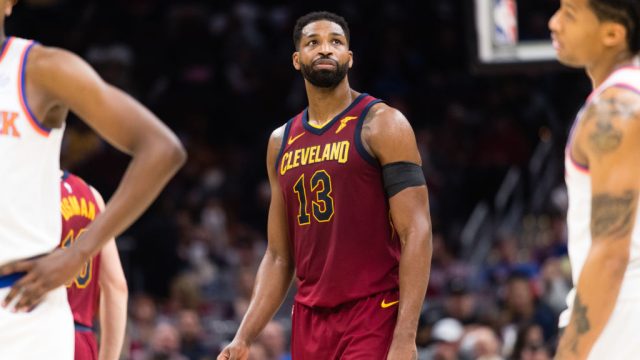 It was a lukewarm welcome back to Cleveland at best. On April 11th, Tristan Thompson made his first public appearance since rumors broke that he cheated on Khloé Kardashian. But despite everything going on, he couldn't avoid the media frenzy forever. He had a basketball game to play.
Thompson, a power forward for the Cleveland Cavaliers, was not in the game's starting lineup against the New York Knicks. But when he took to the court, fans definitely made their feelings known. TMZ reported that when Thompson joined the game near the end of the first quarter, it was during a timeout and his name was not announced over the PA system. A video shows his relatively drama-free first appearance back on the court. But later, when his face appeared on the Quicken Loans Arena jumbotron, the boos began. There were reportedly more jeers later when he was called for personal fouls.
Thompson only played for 30 minutes, likely because it was the last game of regular season and the Cavs are already in the playoffs. His next game is this coming Sunday, April 15th.
People both at the game and watching from home were not happy to see him. false
false
In addition to the boos, this fan made an unmissable statement with a rally sign supporting Khloé.
false
But let's not forget that we don't really know what's going on in Tristan and Khloé's relationship — and that it's none of our business.
As heartened as we are to see an outpouring of support for Khloé, it's also important to remember that this is a private relationship matter. We respect her privacy and wish her nothing but love and positivity as she prepares to welcome her baby girl into the world.