Travis Scott just shut down rumors that he cheated on Kylie Jenner—and he shut them down hard
Travis Scott is not here for rumors about his relationship with "wifey" Kylie Jenner. So when trolls accused the rapper of cheating, he swiftly shut it down by addressing them head-on.
It all started when an Instagram user shared a blurry photo of a man—who kind of looks like Travis—getting cozy with a woman who definitely isn't Kylie. Though the photo was pretty ambiguous, it was enough to leave some fans with questions. Travis caught wind of the photos and immediately slammed any speculation, making it clear that he and Kylie are in a good place and that he isn't going to let rumors ruin that.
"Sh*t cap ass f**kkkk TMZ ain't post this sh*t. Trolls working hard today. [...] That sh*t lame. Try again u trollssss. Me and my wifey sturdy. Back to celebrating!!!" he wrote in the comments section, adding, "Only got love for my wife. No time to be wasting. Think again."
He didn't stop there. The rapper also set the record straight by addressing the rumors on his own Instagram account.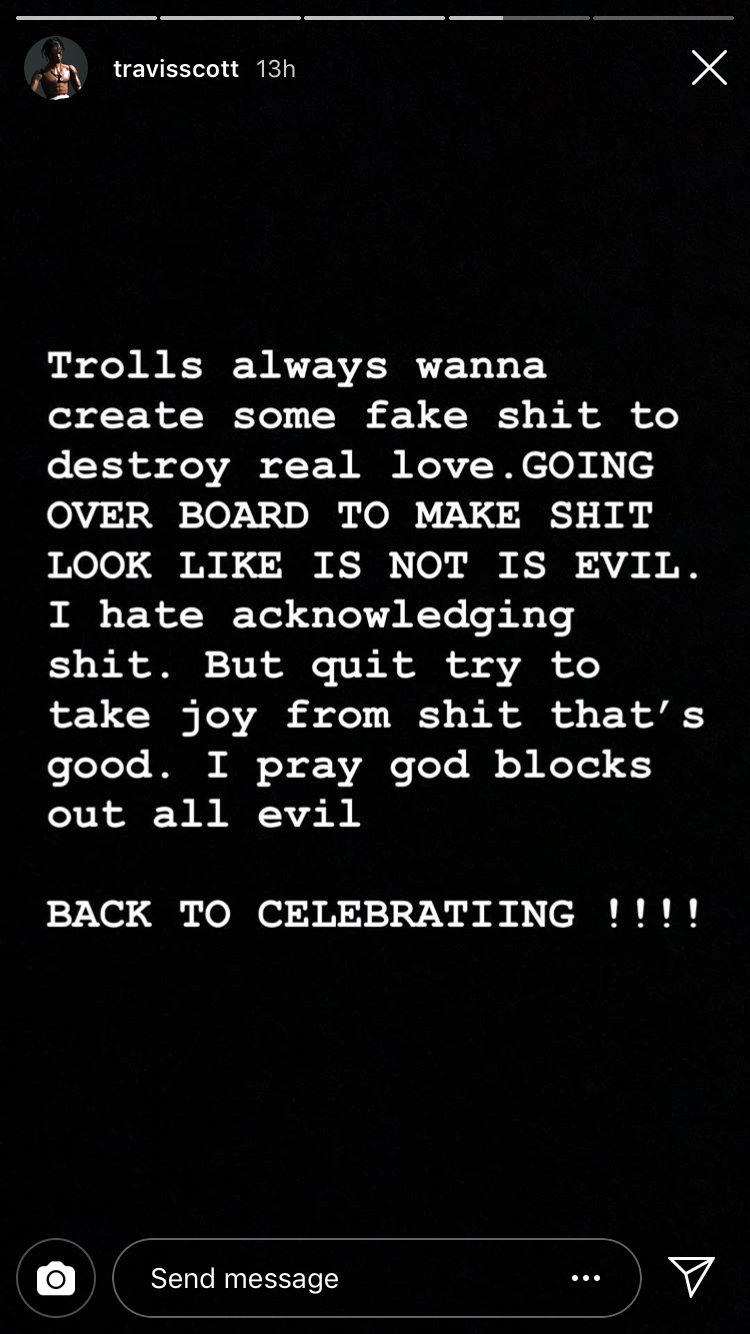 "Trolls always wanna create some fake sh*t to destroy real love," he wrote. "GOING OVER BOARD TO MAKE SH*T LOOK LIKE IS NOT EVIL. I hate acknowledging sh*t. But quit try to take joy from sh*t that's good. I pray god blocks out all evil."
And these aren't the only rumors that he and Kylie sparked this week. On December 3rd, the Kylie Cosmetics mogul posted an Insta Story congratulating Travis on his number one album, Astroword. The post included a photo of the couple from their GQ cover shoot…alongside a single engagement ring emoji.
It's important to keep in mind that this isn't the first time Kylie has used this specific emoji in posts that feature Travis. Also, the KUWTK star often calls her partner "hubby" as a nickname on social media, so it probably doesn't mean a concrete proposal has happened yet. However, we also wouldn't be too surprised about engagement news sometime soon (fingers crossed…because a Kylie/Travis wedding would be everything).