Travis Scott Said How He's Raising Stormi to Be "Strong" Right Now
He wants his daughter to have a "pure vision" of what she's capable of.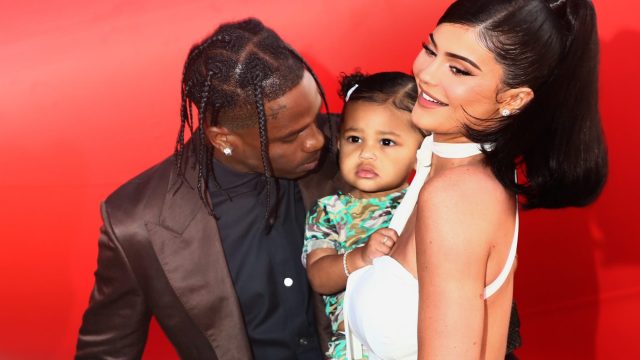 During a recent episode of his .WAV RADIO show with Chase B, Travis Scott said he and Kylie Jenner are raising their daughter Stormi Webster to be a "strong" woman. "Anything a man can do," Scott said, Stormi can do, too—and perhaps even better.
"I feel like it's way more important now to protect young Black daughters, women, and make sure they have the knowledge of how to carry themselves, how to move in this world, how to be strong, how to not even be scared to take that risk on any idea, jump out on any activity," Scott said, per E! News. "Now more than ever, they have the vision."
Right now, Scott and Jenner are focused on bringing up 2-year-old Stormi with a "pure vision" of what she can do in this world, and how she can change it for the better.
"That's why we gotta get out and vote, as the youth, and as us being the future to what this world has a hold, we got that power to change all this shit," Scott said.
Stormi just started her first year of school amid the coronavirus (COVID-19) pandemic last week, which means she's old enough to start understanding current events and being emotionally affected by them. In an August GQ interview, Scott said, "It's amazing to watch my daughter grow."
"I'm keeping her aware of what's going on in the world, he continued. As a parent, I'm always instilling knowledge, even at this age."
Though it's important to let kids be kids and shelter their innocence for as long as possible, it's never too early to start teaching them that they can be smart, kind, world-changing individuals who can shape their society into a more accepting, understanding place.
As for us, we can use our vote to help the next generation—Stormi included—get started.