Travis Scott just pleaded guilty to a crime — and it's not what you would think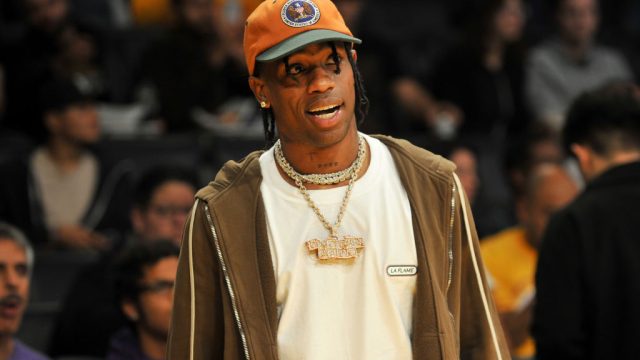 After Kylie Jenner and Travis Scott announced the birth of their child, we had so many questions. What is the baby's first name? (Stormi.) What is Stormi's last name? (Webster — Travis Scott's real name is Jacques Webster.) And who is Travis Scott? The rapper is making headlines beyond the birth of his first child. On Tuesday, February 6th, news broke that Travis Scott pleaded guilty to inciting a riot at one of his concerts in 2017. Here's what happened — and what happens next.
In May of 2017, Scott was arrested for stirring up trouble at the Walmart Arkansas Music Pavilion in Rogers, Arkansas. "During the concert, Webster encouraged people to rush the stage and bypass security protocols to ensure concert goer safety," Keith Foster, Public Information Officer for the Rogers Police Department, told PEOPLE. "During the rush to the stage several people were injured, including an employee from the security company hired to help monitor and control the crowd, and a member of the police department. The injured subjects were treated at the AMP by members of the Rogers Fire Department and Mercy Medical."
As a result, Travis Scott was charged with inciting a riot, disorderly conduct, and endangering the welfare of a minor.
And according to Doug Norwood, the attorney who represented the rapper, Travis Scott pleaded guilty to disorderly conduct. He reportedly resolved everything in January.
"They overcharged him," Norwood told the Northwest Arkansas Democrat-Gazette. "They tried to get him for inciting a riot. The video did not show any of that."
Just a few days after Travis Scott was arrested last May, he took to Twitter to clarify that he didn't mean any harm.
So what happens now that Travis Scott pleaded guilty?
He had to pay a few fines. Scott paid $6,825.31 to two people in attendance who said they sustained injuries. One was a Benton County sheriff's deputy who was working security. He also had to pay $640 in court associated costs. But aside from that, it's all over. And Norwood reportedly thinks that the charge of disorderly conduct can one day be expunged from the rapper's record.
"[Scott] felt bad about anyone being injured and was always willing to pay the restitution," added Jon Nelson, an attorney in Norwood's firm.
Case closed. Now that it's over, Travis Scott can focus on spending time with Kylie and their baby girl, Stormi Webster.