12 SPF-packed products to keep in your purse so you can safely beach bum all summer
We've heard beauty blogs, influencers, and dermatologists alike testify to the importance of sun protection. Everyone knows that a hydrating sunscreen keeps skin youthful and radiant while protecting from the harmful UV rays of the sun, yet the Center for Disease Control reports that less than 30% of women use sunscreen on their face and other exposed skin on a regular basis. (We know…how?)
Besides the vulnerable and cheekbones, forehead, neck and shoulders, different parts of your face and body need different types of sun protection. The skin around the eyes, for example, is thinner than the rest of the face. Because of this, SPF-packed treatments for the eye area are typically loaded with moisturizing and de-puffing properties. Thinning hair also means that the scalp becomes more susceptible to sunburn over time, and just trust us when we say ouch.
Besides diversifying your sunscreen selection, it's important to note natural factors that affect how our skin defends itself from damaging sun rays. Though melanin supply varies from person to person, the amount melanin in our skin cells shrinks dramatically as we age, which means we get less natural protection from the sun as we grow older.
If that isn't scary enough, a 2011 study by Australian skin cancer researcher Jen Makin shows that the thinning of the ozone layer caused by climate change lets in more surface UV radiation…meaning the sun's damage on the skin is much higher now than 10 to 15 years ago. The study also shows that rising temperatures will result in adults spending more time outdoors, wearing less protective clothing, and increasing sun exposure.
With all these factors stacked against your primary protective barrier, the good ol' reliable epidermis, it's necessary to have sunscreen within arm's reach at all times this summer (and year-round, tbh). Lucky for you, dear reader, we've done the legwork to round up 12 of the best travel-sized SPF-packed beauty products we could find to help you stay armored all summer long—no matter what size your bag is.
1Neutrogena Hydro Boost Water Gel Lotion SPF 50
Neutrogena's affordable, hydrating formula is also great for medium to dark skin tones. The sunscreen lacks the white, pasty undertones that typically make darker skin tones look chalky or ashy.
2Fresh Sugar Orchid Lip Treatment Sunscreen SPF 15
Fresh's cult-favorite lip balm uses natural ingredients like sugar, to promote moisture retention, and grapeseed oil, which is rich in antioxidants that protect your skin from grimy, breakout-inducing free radicals.
3Lancome Bienfait Multi-Vital Eye Sunscreen SPF 30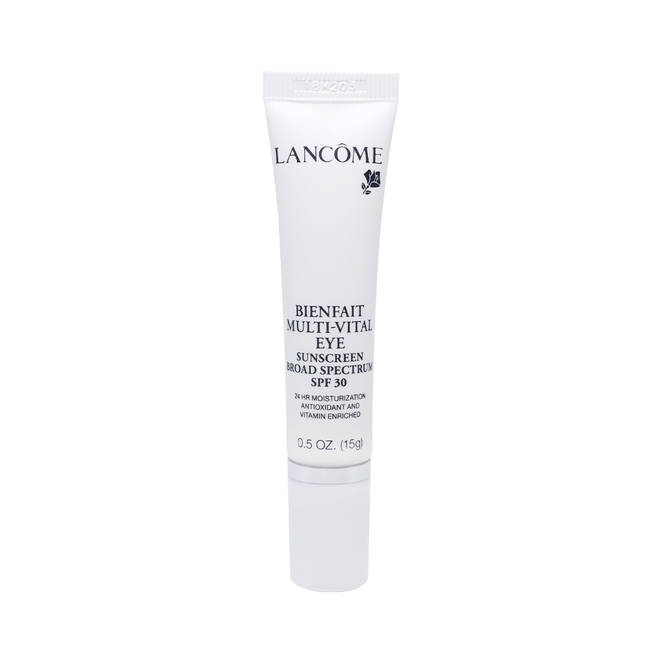 Loaded with caffeine, Lancome's lightweight yet creamy formula helps reduce visible lines around the eyes. It's even highly recommended in product reviews by people with sensitive skin.
4Glossier Invisible Shield SPF 35 Daily Sunscreen
There's more to this sunscreen than its highly Instagrammable packaging. Sure, it's a double-duty heavyweight that prevents pollutant gunk from entering your pores while providing non-greasy sun protection. But it's also so ridiculously easy to apply that many non-regular sunscreen users have since converted.
5Bare Minerals Complexion Rescue Hydrating Foundation Stick SPF 25
This water-based, vegan foundation stick gives you the option to enhance a few spots or build medium coverage. The use of water as a base instead of oil coupled with the foundation's lightweight texture makes this bad boy a breathable summertime staple.
6Mario Badescu Aloe Moisturizer SPF 15
Mario Badescu stans are some of the most ride-or-die, and this moisturizer explains it all. Ideal for combination or oily skin, this aloe-infused moisturizer soothes sun-parched skin in no time.
7Kopari Sundaze Mineral Face Sunscreen SPF 30
This coconut-water-based sunscreen by Kopari contains natural ingredients that are not only designed to protect from the sun, but from harmful blue (HEV) light rays emitted by computer screens as well.
8Shiseido Ultimate Sun Protection Lotion WetForce SPF 50+
This Japanese brand has been cranking out modern skin care miracles for years, but this sunscreen takes the cake. Shiseido's unique WetForce technology imbues the sunscreen with negative ions that react to the positive ions in water and sweat. The sun protection becomes stronger as the product comes into contact with water.
9IT Cosmetics CC+ Cream Illumination with SPF 50+
IT Cosmetics made the Swiss Army Knife of color-correcting creams. Packed with SPF, this product also acts as a foundation, a color corrector, primer, concealer, day cream, and dark spot concealer.
10Supergoop! Poof Part Powder
A rejuvenating dry shampoo and scalp protector all in one, this powder is sprayed generously at the root of the hair and worked into the scalp with the fingers to prevent dreaded scalpburn.
11Murad Essential-C Moisture Broad Spectrum SPF 30
Murad's following swears that this sunscreen is a summer staple, and we see exactly why. This famed moisturizer evens out skin tone and texture while targeting sun spots. Reviewers claim that this moisturizer provides an instant glow and lasted longer than typical facial sunscreens.
12Peter Thomas Roth Instant Mineral SPF 45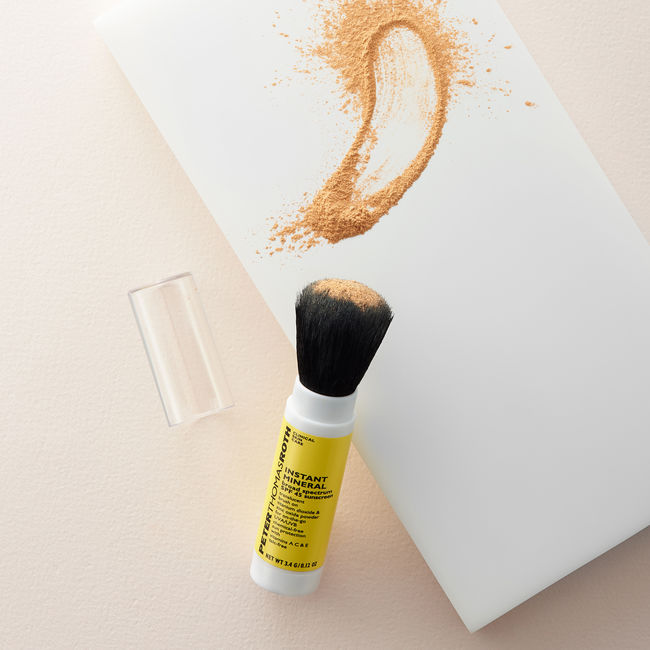 Mineral-based sunscreen relies on natural chemical reactions from ingredients like zinc oxide and titanium oxide to provide safer sun protection. Peter Thomas Roth's powder based formula applied with a large brush works well with oily sensitive skin because the powder works with the natural oils in your face to provide the protection you need.