This trans actress just made awards show history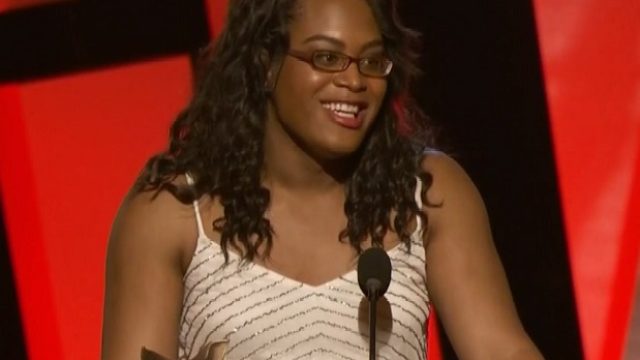 Hollywood took a small step forward for inclusion last night, and all we can say is it's about darn time. At the 31st Independent Spirit Awards on Saturday, the voters recognized the fantastic talent of transgender actress Mya Taylor as Best Supporting Female for her work in Tangerine.
Beating out indie stars Jennifer Jason Leigh, Cynthia Nixon, Robin Bartlett, and Marin Ireland in a stellar category, Mya acknowledged her nerves in her adorable acceptance speech. "When you're up against other big actors for an award, there's so many things that go through your head, you know, 'Am I going to trip on this long-ass dress getting up here? Am I going to plant my face in the ground?'"
Taylor then recognized how her work in Tangerine has caused her life to completely turn around, despite her initial skepticism over a film shot entirely on iPhones. "My first thought was 'this movie ain't going to be shit'" she admitted. The experimental camera work, however, turned out to be a highlight of the film along with excellent performances and a strong story; on Rotten Tomatoes, the film boasts a 96% approval rating and was one of the highest rated films of 2015 on the website.
The award cements Mya's growing celebrity status in Hollywood, though, speaking to People after the award ceremony, she admits she's still not that far past a period where she couldn't get work. "I went through a very, very hard struggle and for me, I just feel like when I do stuff like this, I have to let other people know."
Taylor made sure to highlight the need for greater acceptance of trans actors in both indie and mainstream Hollywood in her acceptance speech. "There's very beautiful transgender talent," she told the audience. "So, you better get out there and put it in your next movie."
Check out her deserved win and great acceptance speech below: