These flight attendants are being trained to spot signs of human trafficking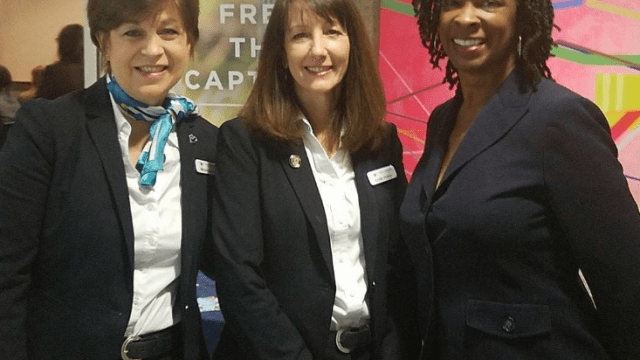 Human trafficking is way too big an issue. However, these flight attendants are being trained to spot signs of human trafficking, reported NBC News, and we love them for it. Actually, we love the whole idea.
Former flight attendant Nancy Rivard founded Airline Ambassadors, and is trying to show airline staff across the country how to spot signs of human trafficking. After all, as we said, it's a ~big~ issue — U.S. Immigration and Customs Enforcement arrested 2,000 human traffickers and identified 400 victims last year, according to NBC News. Two-thousand and 400 too many, if you ask us!
Since then, they've "become a leading advocate in the industry and provided human trafficking awareness trainings at 40 airports in the U.S. and around the world."
For instance, Airline Ambassadors create flyers like these.
And then flight attendants can take part in the training.
Last week, a training session was held in Houston.
Rivard and many of her colleagues met with approximately 100 flight attendants, all of whom volunteered for the Airline Ambassadors training session.
Not only did former victims speak to the flight attendants, but the latter also learned to look out for key warning signs, such as if passengers appear frightened and/or drugged, if the person they're traveling with does not seem to be a parent or relative, and people who seem to be bruised or battered.
For instance, Shelia Fedrick, a flight attendant for Alaska Airlines, has spotted signs of human trafficking on board, reported NBC News.
On a flight from Seattle to San Francisco, Fedrick spotted a teenager who "looked like she had been through pure hell," with a "well-dressed older man" — and the man became defensive when Fedrick tried talking to them.
"I left a note in one of the bathrooms, Fedrick said. "She wrote back on the note and said 'I need help.'
So Fedrick stepped in. She told the pilot, and police were at the airport to meet the flight when it landed.
Wow, right?! And ~so amazing~. We give props to Fedrick for listening to her instincts and spotting the suspicious situation.
Airline Ambassadors hopes, via Congress's help, that ~all~ flight attendants in the U.S. will have to be trained to spot signs of human trafficking. We definitely hope so, too.