The trailer for 'Passengers' starring Chris Pratt and Jennifer Lawrence is here and it's GORGEOUS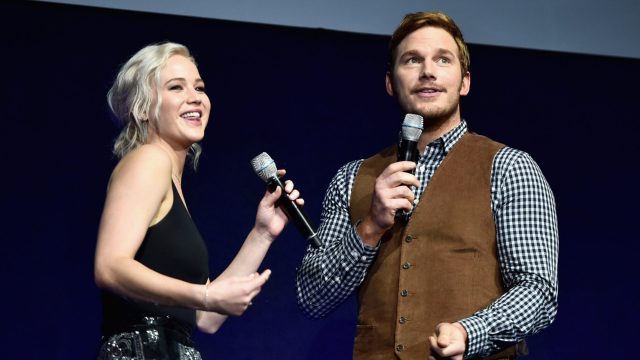 If you've been eagerly awaiting the trailer for Chris Pratt and Jennifer Lawrence's new feature film, Passengers, we have awesome news for you: You can watch the official Passengers trailer at this very moment! Surprising no one, this trailer is pretty darn intense — and gorgeous. Passengers offers a lot of what audiences tend to enjoy, and we have a feeling critics will be all over this movie in the best possible way, too.
Passengers is a sci-fi thriller that has the extra element of romance between our two main characters, who happen to be portrayed by the most lovable and endearing actors ever, Pratt and Lawrence. The more detailed idea behind the plot is that people boarded a spacecraft with the plan of "hibernating" for 120 years. Then, a year before the film begins, Lawrence and Pratt wake up a good 90 years before everybody else.
What happens from there is anybody's guess, but luckily we only have to wait another two months until the movie comes out in theaters to find out for ourselves. Until then, check out the truly beautiful trailer below and get your theories ready! This is definitely a movie people will be talking about for a while.
https://www.youtube.com/watch?v=7BWWWQzTpNU?start=107&feature=oembed
We see many Oscar nominations in your future, Passengers!