The trailer for Madonna's Carpool Karaoke looks as wild as you'd expect
We knew that this would be totally wild, but nothing could prepare us for the trailer of Madonna's Carpool Karaoke.
The star announced that she was joining James Corden for his popular The Late Late Show segment last month (November) and basically we EXPLODED with excitement. Given that Madonna has over 30 years of experience in the music industry and more hits than we could count on all fingers AND toes (seriously, who hasn't screamed along to "Like a Prayer" while driving around, eh?) we couldn't wait to see whether her Carpool Karaoke would match those of Britney Spears, Lady Gaga's emotional turn, or Michelle Obama's hilarious go in Corden's car.
Well, now the trailer for Madonna's Carpool Karaoke has dropped and it looks as completely and utterly incredible.
Whereas most of Corden's carpools have taken place in Los Angeles, Madonna joins the actor and TV host in New York.
"Thank you so much for showing me around the city, says Corden. "I don't know New York that well. Do you mind if we listen to music?
Madonna then appears, saying:
"I don't really like riding around in a car unless there's music."
The clip then sees Corden and Madonna doing their best "Vogue" impressions, before Madonna shows of her "twerking" skills to her last single "Bitch I'm Madonna."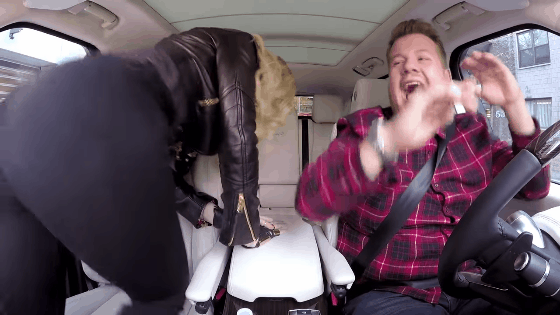 The pair also talk about a time where Madonna went on a night out with Michael Jackson! Basically, we know that the tea from this carpool is going to be SCOLDING.
Watch the trailer below.
https://www.youtube.com/watch?v=GUcYFIMuhhQ?feature=oembed
So, we know that Madge and James will sing both "Vogue" and "Bitch I'm Madonna," however we SO curious as to how many others of the 10000000000 singles that the singer has released will also get an outing. We're hoping for "Like a Prayer" (obvs), "Ray of Light," "Borderline," and possibly something like "Don't Tell Me."
Anyways, I guess we'll find out when Madonna's Carpool Karaoke airs Wednesday during The Late Late Show with James Corden on Wednesday (December 7th) at 12:35 AM ET/11:35 PM on CBS.