Watch this trailer for the "Jersey Shore" reunion show if you want to relive 2009 all over again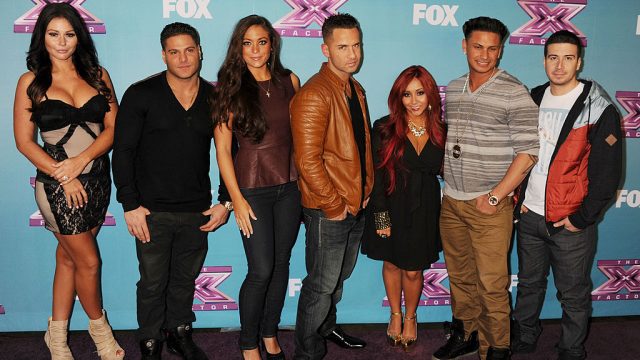 Break out the hair gel and go get a spray tan, because some cast members from Jersey Shore are heading back to the beach. Much as you might have dissed the show back in the early 2000s, you know you miss the gang. Because let's face it, we need their brand of crazy right about now.
From the new trailer, released Friday, it seems like (almost) everyone has grown up a lot since their initial time at the beach. But it's safe to guess that once they're together again, hilarity will ensue. Because how could anything involving The Situation be anything but? So get ready to GTL (Gym, Tan, Laundry) in preparation for Jersey Shore Reunion Road Trip.
Although the original show was on MTV,  Jersey Shore Reunion Road Trip is set to air August 20th on E! as part of a docuseries reuniting cast members from old TV shows. In the new trailer, Snooki, JWoww, Pauly D, The Situation, and Sammi Sweetheart are walking down the Jersey Shore boardwalk. All of them have that artificial orangey/bronze hue that became synonymous with the show. And while they certainly look older, they definitely still seem like the same people we came to know.
It's hard to believe that the show has been over for five years, it seems like just yesterday we were all watching this gang get into totally unnecessary bar fights.
And while many of the cast member have taken on new projects, it looks like some things never change. Watch the trailer to see what we mean.
https://www.youtube.com/watch?v=xrZNcbocOHY
Even though they've grown up and the women have less voluminous hair, the guys look the same. Pauly D's hair is in his trademark coif. But it does look like The Situation has traded his white tank for a polo. What we really need to know is why he's wearing a neck brace. Maybe hasn't been doing as much G? But with this crew anything is possible! So practice your fist pump and get your GTL done; the show airs on E! starting August 20th.