Watch the trailer for Debbie Reynolds and Carrie Fisher's documentary and prepare to get emotional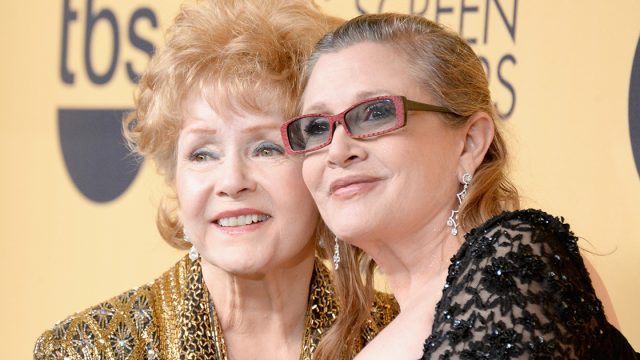 Get the tissue box ready as the trailer for Carrie Fisher and Debbie Reynold's documentary together has debuted and we're already getting emotional.
Sadly, just after Christmas, both the beloved actress Carrie Fisher and her mother, Hollywood icon Debbie Reynolds, passed away within one day of each other. The pair were notoriously close, with Fisher's brother, Todd, saying that he felt it was "destiny" for his mother to die so close to her daughter as she "didn't want to leave Carrie and did not want her to be alone." 
Well, just before their deaths, Carrie Fisher and Debbie Reynolds had been working on a documentary together for HBO titled Bright Lights: Starring Debbie Reynolds and Carrie Fisher, and now we've got a first look at the trailer.
[tempo-video id="5269548782001″ account="416418724″]
Described by the president of HBO Documentary Films, Sheila Nevins, as a "love story", the film's trailer showcases what a tender and beautiful relationship Carrie and Debbie had together.
As Carrie says in the trailer, the pair lived next door to each other and it's clear that they were a force to be reckoned with.
"I'm my mom's best friend. Far more than I would ever want to, I know what my mother feels and wants," Carrie says in the trailer.
The trailer also touches on the fact that Debbie Reynolds was slowly losing her health and memory, and that Carrie was bipolar.
Directed by Alexis Bloom and Fisher Stevens, the documentary was filmed between 2014 and 2015, and leads up to Reynolds receiving her Screen Actors Guild Life Achievement Award, which Fisher presented to her.
"At the one end of the family compound in Beverly Hills lived Debbie Reynolds, star of Singin' in the Rain, with Dorothy's red slippers from The Wizard of Oz on the mantelpiece," Bloom and Stevens told People magazine. "Adjacent was Princess Leia, in a house where Bette Davis once lived. You don't get more Hollywood royalty than that. Storytelling magic lived around them… They had what Carrie called 'rampant empathy' for each other."
Continuing, they added:
"We started out making a film about Hollywood royalty. And we ended up making a film about love."
HBO announced that following the sad passing of both Fisher and Reynolds, they were moving the air-date of the documentary up. Thus, Bright Lights will now debut on January 7th.
Meanwhile, Carrie Fisher's daughter, Billie Lourd, recently shared her first public message since the death of her mother and grandmother.
"Receiving all of your prayers and kind words over the past week has given me strength during a time I thought strength could not exist," she wrote on Instagram. "There are no words to express how much I will miss my Abadaba and my one and only Momby. Your love and support means the world to me." 
You can catch Bright Lights: Starring Debbie Reynolds and Carrie Fisher on HBO January 7th at 8 p.m. EST.