The Trader Joe's-heavy beauty routine of one of The Blend's co-editors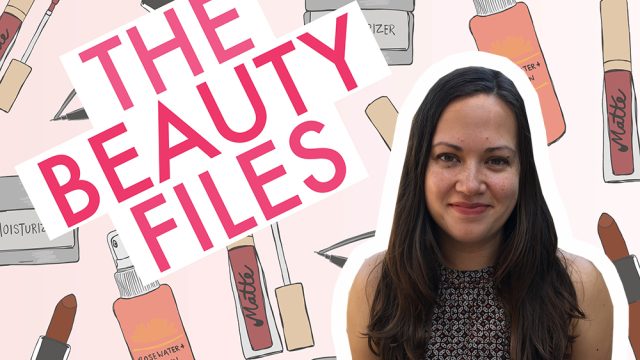 Welcome to The Beauty Files, where HelloGiggles editors and contributors share what exactly they put on their faces, and why. We want to take you on this voyeuristic journey because we believe makeup means something different for every single person — applying makeup is a conscious, intimate decision we make almost every single day, and there's usually a method behind the madness. Join us every week as we spill the beans on beauty products, and feel free to submit your own Beauty File. E-mail us at [email protected]!
Mia Nakaji Monnier is co-editor of The Blend, HelloGiggles' space for stories about mixed-race and multicultural identity.
I live closer to my neighborhood Trader Joe's than I did to any of my college dining halls, but somehow I never tried their skin care products until last year. It started with the rose water toner spray in the cute pink bottle. Eventually, I became curious to see what would happen if I replaced all my skin care products with cheaper Trader Joe's options.
So far, only one purchase has disappointed me (the blueberry-acai facial scrub that smells sticky-sweet like a shelf-stable muffin), but overall I'm happier with my routine than I've ever been before. Because I spend less on skin care products now ($4 for moisturizer rather than $40), I can actually enjoy the ritual of using them, rather than feeling guilty about how much they cost. Plus the absurdity of consciously building a Trader Joe's collection just cheers me up.
7:30 a.m.—Waking up with Trader Joe's coffee and serum
Until recently, I didn't use product to wash my face in the morning; I'd just splash it with cold water. But just last week, I got a skin care consultation with journalist Alex Laughlin for contributing to the crowdfunding campaign for new Asian American podcast Self Evident (which sounds amazing, by the way—you can learn more and contribute here).
She read through my routine and suggested a few changes, and since I love homework and her suggestions were reasonably priced, I bought a few new products right away, including CeraVe Hydrating Facial Cleanser ($14.99). It feels more like a moisturizer than any cleanser I've ever used before, and I can feel its extra moisture boost throughout the day.
Next, I spray my face with Trader Joe's Rose Water Facial Toner ($3.99) and apply Trader Joe's Nourish Hyaluronic Moisture Boost Serum ($8.99). Before I started buying skin care products at Trader Joe's, I rarely used serums because they can be so expensive. As a freelancer (with a taste for hardcover books and knitting with fancy yarns), I couldn't justify it for myself. This one has a light, watery consistency and a subtle floral scent, and it does seem to make my skin happy.
https://www.instagram.com/p/Brf3ozDFDsu
For moisturizer, I use Trader Joe's Enrich Moisturizing Face Lotion Broad Spectrum SPF 15 ($3.99). At first, I missed the bergamot scent of my old favorite moisturizer, Origins A Perfect World SPF 40 ($45), but this one is lighter-weight and absorbs better into my skin.
If Trader Joe's sold makeup, I'd definitely try it. Until then, on a typical day, I use Glossier Perfecting Skin Tint + Stretch Duo ($36), both in the shade G9. To be honest, they don't do much more than make me look like I'm standing in slightly more flattering lighting. I never really wore foundation or concealer until I turned 30, and I'm still ambivalent about them. On one hand, if I can make my skin tone a bit more even, why not? On the other, is it worth extra money or time or worry that I'll stain my shirts? I haven't decided yet.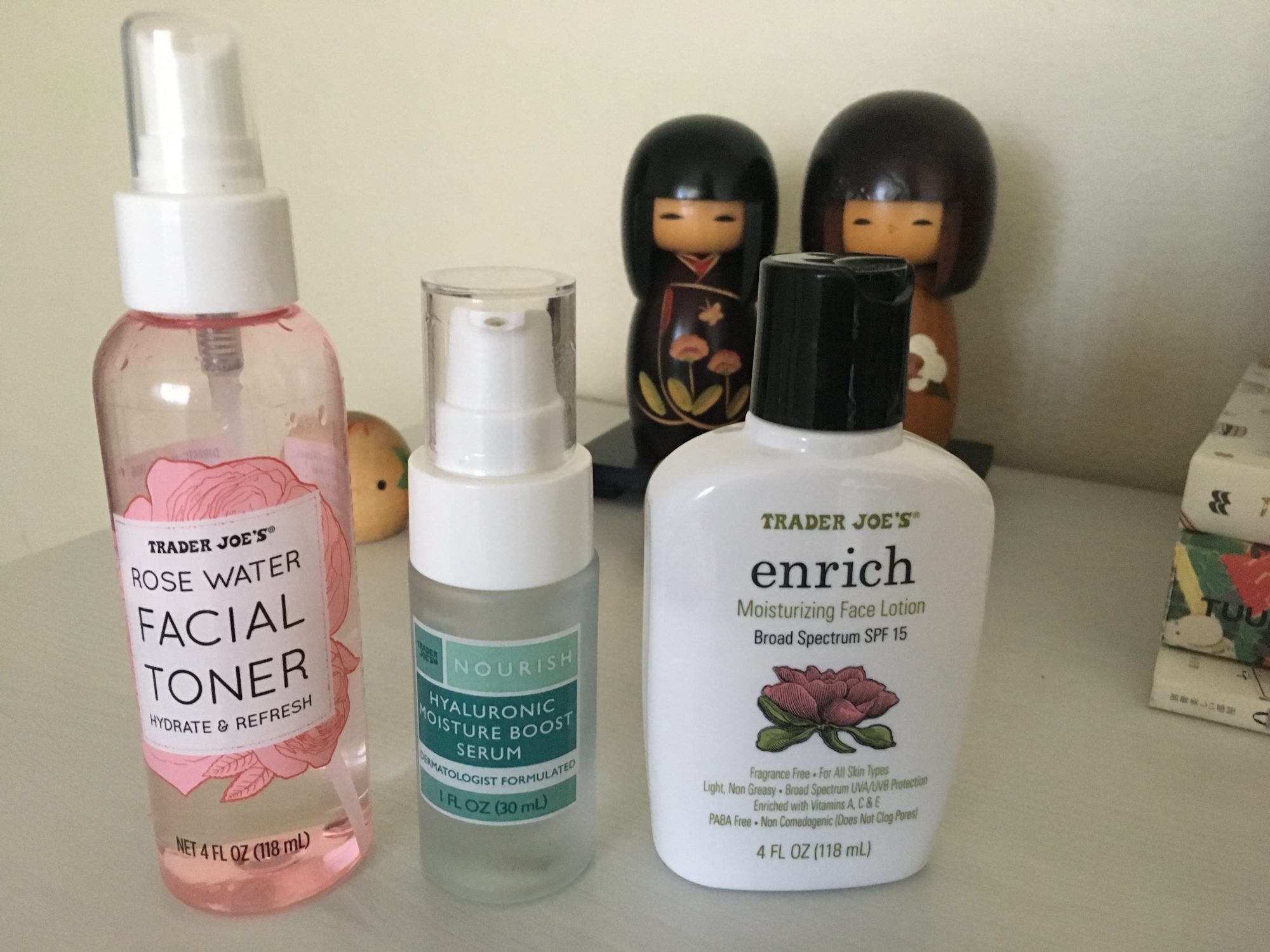 Like many who came of age with 10 Things I Hate About You and the dELiA*s catalogue, I over-plucked my eyebrows in the early 2000s and never fully got them back. So I fill them with Nars Brow Perfector in Kalamata ($24), then brush them into place with e.l.f. Clear Brow & Lash Mascara Gel ($2). For eyeliner, I'm currently using Urban Decay 24/7 Glide-On Eye Pencil ($22) in Whiskey, a reddish brown. I can never really tell the difference between mascara formulas, so I default to Maybelline Great Lash Mascara ($5.99). For lipstick, my favorite are Nars lip pencils, both Velvet Matte and Satin formulas ($27). The colors I love most: Hyde Park (deep red), Walkyrie (a moody nude-red), and Intriguing (soft nude-pink).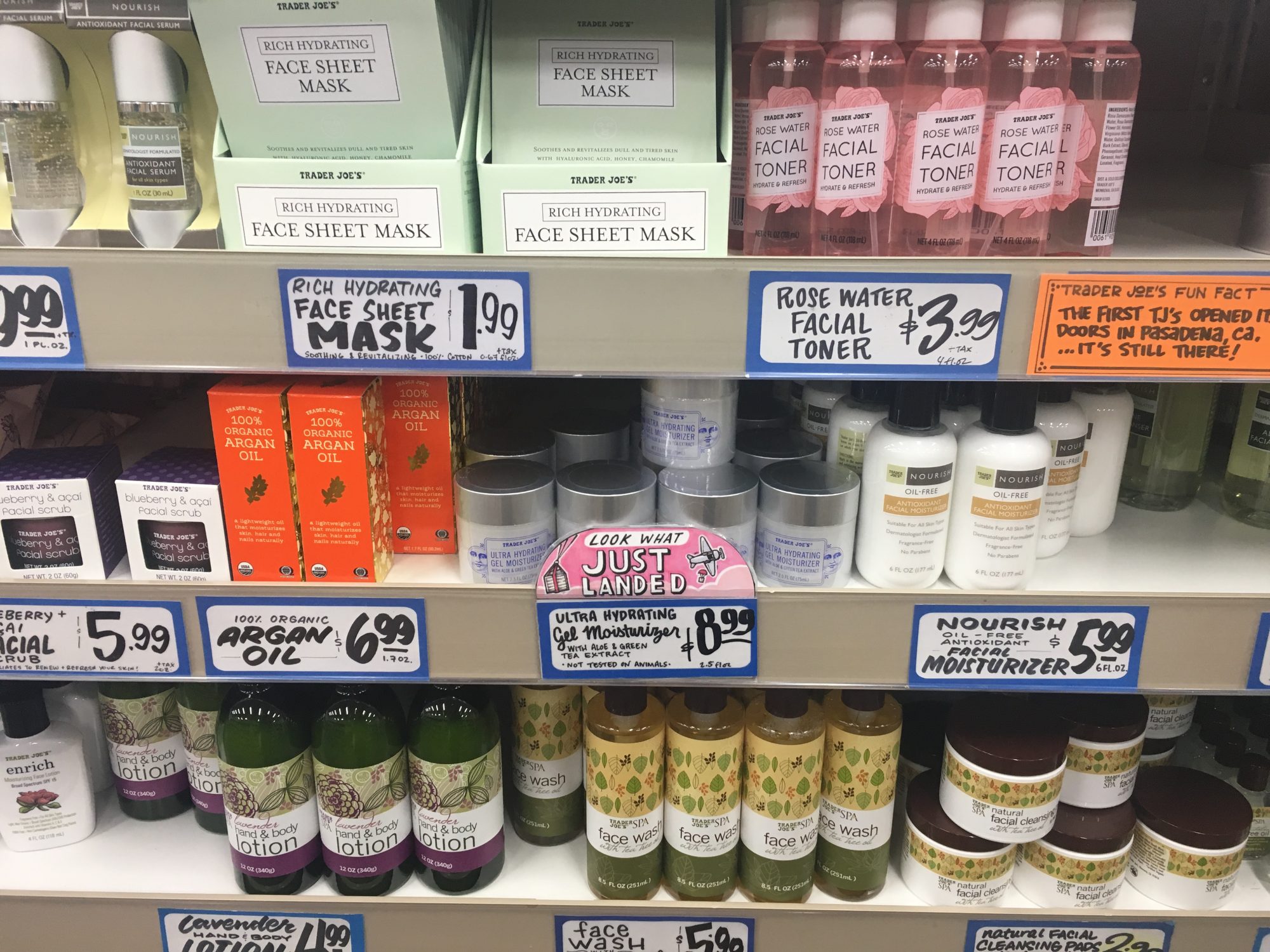 (Also, my favorite coffee at Trader Joe's is kona, hands down.)
10 p.m.—Wavy hair care and scary face masks
Last year, I went down a Reddit rabbithole learning about the Curly Girl Method, which I hoped might accentuate my natural waves. Over time, I've incorporated some of the techniques, and my hair does seem happier for it, shinier and more balanced (instead of dry at the bottom and greasy at the roots). I've tried the routine with a variety of different products, but so far my hair reacts best to the Aveeno ones I got for free from the HG office.
Right now, I wash my hair about twice per week. On wash nights, before showering, I put on the Aveeno Oat Milk Blend Overnight Oats Hair Mask ($8.49) and twist my hair into a topknot. (I haven't tried the mask overnight yet because that sounds messy and because it already makes a noticeable difference after just 30 minutes to an hour.)
As the mask soaks in, I start my nighttime skin care routine by removing makeup with Vichy Purete Thermale One-Step Cleansing Micellar Water ($14.50), then double-cleansing with Fourth Ray Beauty BFD Cleansing Oil ($14) and the same CeraVe cleanser from morning. Once my face is clean, I might put on a face mask, like The Ordinary AHA 30% + BHA 2% Peeling Solution 10-Minute Exfoliating Facial ($7.20), another recommendation from Alex. I've only tried this one once so far, so I don't know how it works over time, but it seems promising based on reviews. Because it is a chemical exfoliant, it does burn a little, and its color makes you look like your entire face is bleeding—a very soothing combination. My boyfriend freaks out when he sees me doing any mask, but this one freaks him out the most.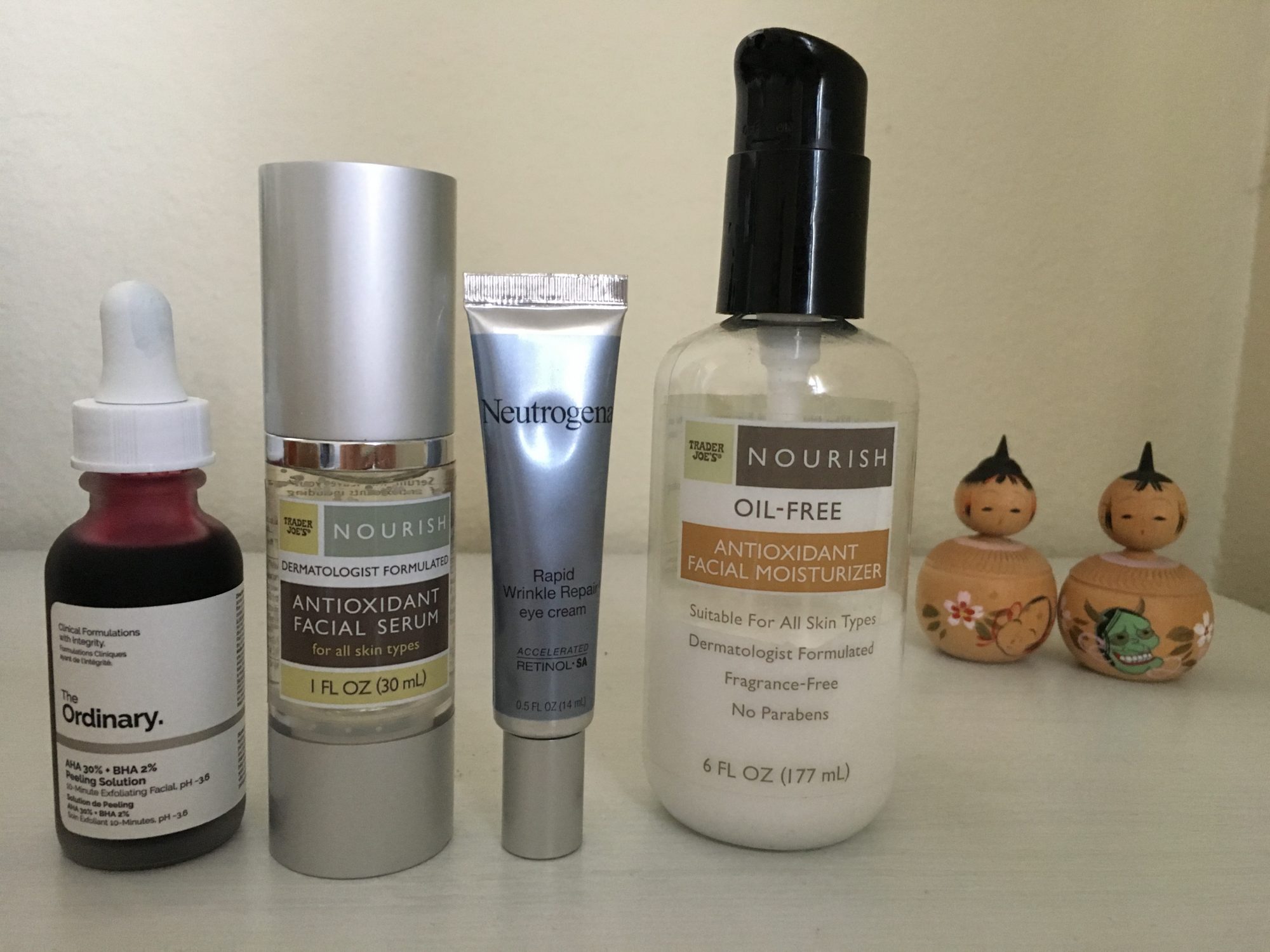 After carefully rinsing off the mask, I shower, washing my hair with Aveeno Apple Cider Vinegar Blend Shampoo ($8.49). Next, I condition my hair with Aveeno Apple Cider Vinegar Blend Conditioner ($8.49). While the conditioner is still in, I comb my hair with a wide-tooth comb like this one ($2.99), which breaks my wave pattern less than would brushing my hair while it's dry, and "squish to condish." Finally, I apply Aveeno Oat Milk Blend Leave-In Milk ($8.49) and comb it through my hair. When I get out of the shower, I squeeze my hair with a T-shirt rather than rubbing it with a towel, then "plop" it on my head for the night.
I finish my skin care routine with Trader Joe's Nourish Antioxidant Facial Serum ($9.99), Neutrogena Rapid Wrinkle Repair Eye Cream ($23.99, another Alex rec), and Trader Joe's Nourish Oil-Free Antioxidant Facial Moisturizer ($5.99). To moisturize my body, I use Trader Joe's Lemongrass Coconut Body Oil ($3.99), which feels great and has a calming scent but is super greasy, so I only use it at night.
https://www.instagram.com/p/BtEZJb5F76q
And that's it. I won't pretend I stick to a perfect, consistent routine that has cured my anxiety and imbued me with the friendly, can-do attitude of your favorite Trader Joe's boyfriend. But developing a beauty routine that feels good does help bring some order and joy to my day. And when I run out of moisturizer, I know there's another affordable bottle just down the street, next to the coffee samples.
Indulge in beauty-themed voyeurism by reading all of our past Beauty Files, here.