Trader Joe's has unleashed the pumpkin products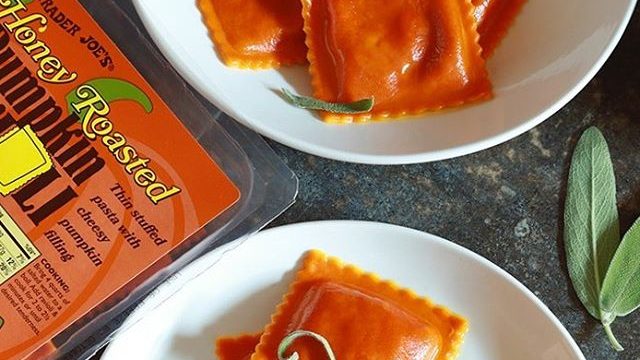 The autumn equinox is on September 22nd, but fall came early, with Delish reporting that customers have spotted Trader Joe's pumpkin products in abundance at the store already. Trader Joe's has made itself the go-to destination when it comes to fall foods, thanks to its extensive pumpkin selection. And if you're all about the short window of time when pumpkin foods are available, it's time to run — not walk — to Trader Joe's.
The Instagram account Trader Joe's List keeps tabs on the best that Trader Joe's has to offer and provided us with a glimpse of what our ideal fall shopping cart looks like.
With pumpkin bagels, pumpkin ravioli, pumpkin soup crackers, and pumpkin desserts, Trader Joe's has your pumpkin fix covered for breakfast, lunch, and dinner. But here are some of the pumpkin items that we're most pumped about.
Pumpkin Spice Caramel Corn
https://www.instagram.com/p/BZHoNO9lxbQ
With roasted pumpkin seeds and walnuts, this is the perfect treat to snack on while wandering around some fall festivals.
Butternut Squash Mac & Cheese
OK, it's not actually pumpkin, but how could we not include butternut squash macaroni and cheese?! This will warm you up on chilly autumn nights and make your taste buds sing.
Pumpkin Ginger Ice Cream Cones
If it still feels like summer where you live, this pumpkin ice cream in ginger cones will let you have the best of both worlds.
You can best embrace fall while it's here by filling your belly with all of the pumpkin treats that Trader Joe's has to offer.