Trader Joe's now has a podcast, and it even addresses the fifth level of hell (aka its parking lot)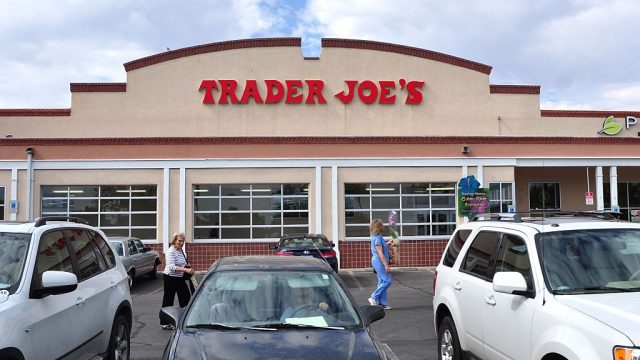 It feels like everyone has an opinion about Trader Joe's, whether it has to do with their favorite frozen dinner item, the best deals they found on their last visit, or how long the lines are at checkout. Although it might be a little odd that we all have a soft spot for the grocery chain, the higher-ups over there definitely know how to draw us in even deeper. This week, a Trader Joe's podcast, Inside Trader Joe's, was launched, so if you have any burning questions about the company, all their secrets will be revealed. Even the scoop on the chain's parking lots, which can only be described as hell on Earth, will be a topic of discussion. So now, at the very least, you'll have something to listen to while you circle around (and around and around) for a spot before grocery shopping.
The podcast is just five episodes long and features key "crew members," including the company's CEO, President and COO, President of Stores, Executive Vice President of Marketing and Merchandising, and Store Captains. They'll all be dishing on the ins and outs of running a grocery store, how TJ's discovers its addicting products, why they sell bananas the way they do, and whether or not they'll ever open an online counterpart so that you can avoid the parking hellscape. They'll even get into what it takes to petition the company to get a Trader Joe's near your house, in case you've been missing out this whole time.
Company spokesperson Kenya Friend-Daniel said in a statement,
"Providing information to our customers has always been an important part of what we do. Inside Trader Joe's has allowed us the air — literally — to delve a little deeper into our story and to answer the questions our customers have asked of us, in our own fun and interesting way. It's a good start to a conversation we hope to continue."
It really is all about sharing Trader Joe's story with people, hosts Tara Miller, Trader Joe's marketing director, and Matt Sloan, vice president of product marketing, promised. The duo added, according to Los Angeles Magazine, that it's "not a long ad" or just one big commercial.
So if you're that person who finds a way to turn every party conversation towards all the delicious Trader Joe's snacks you just discovered or ever wondered how they come up with their hilarious product names, this podcast is probably for you. Don't worry, you're not alone out there in your unwavering adoration for the place. The Trader Joe's fan club is very real.