Trader Joe's created the ultimate coffee brewing hack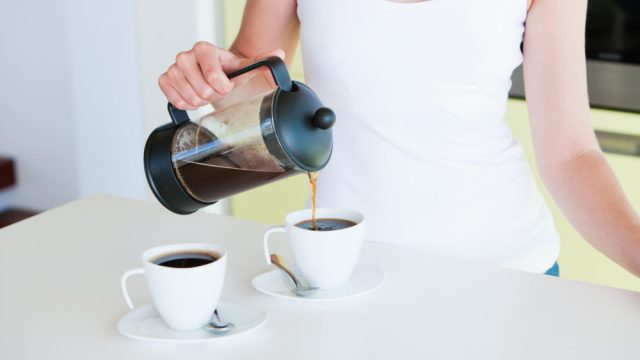 Coffee junkies, prepare to rejoice. Because Trader Joe's pour-over bag makes brewing coffee a cinch. What's a pour-over bag, you ask? Think ramen noodles in a cup, but with coffee grounds. Even better — the cool invention is totally giving us french press on-the-go vibes.
And following the directions seem to be foolproof, too! Just open the pouch, and fill with hot water to the line — there's one for those who like it mild, and for the ones with stronger palate. Let it brew for four minutes, or as long as your heart desires, and then serve through the cute little spout.
Trader Joe's boasts that the packet is a medium Brazilian roast, with dark chocolate and nut notes. Writer Claire Lower from Skillet's Lifehacker reviewed the convenient brew-on-the-go pouch, and found that it doesn't deliver the best final product. In fact, it was more diner-esque than Starbucks. But, seriously…when you're in a rush and in need a caffeine fix, we're sure gourmet quality is the last thing on your mind.
The folks over at Trader Joe's Insider spied the coffee product on the store's shelves 66 weeks ago, and all we're thinking is "why we didn't know about this sooner?"
As for just how many servings you can get out of the pouch, the exact amount is tricky to measure. Trader Joe's estimates "about two cups." However, Lower found that it was just enough to fill one mug. Either way, we're totally here for this little brewing baby packet. Especially if that means we'll get a hot cup of coffee, sans the clean up or hefty price tag.
Leave it to Trader Joe's to add cheap convenience to our daily routines. They obviously understand what it means to be a millennial on the go, and should totally be recognized for it.