Tracy Morgan revealed a straight up terrifying detail about his post-accident recovery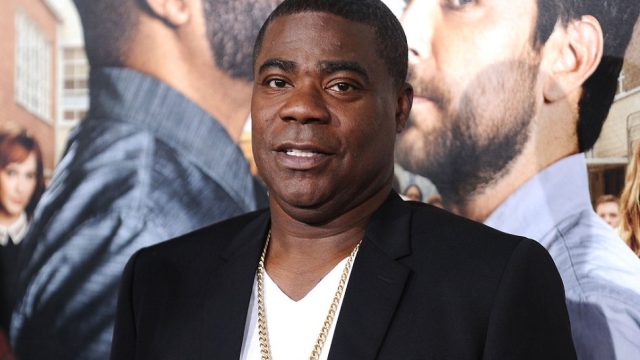 Once his accident hit the news, the world didn't really know what to think. Even though his recuperation has been absolutely stellar, Tracy Morgan revealed a new detail about his recovery that's making us a little bummed out.
While promoting his new film Fist Fight, which comes out today, Morgan talked to Extra's Renee Bargh about the multi-car accident that took place in New Jersey that left him in critical condition. The accident was responsible for the death of Morgan's friend, James McNair, who was riding along with the comedian after a gig in Delaware.
"I was breathing on a machine for 10 days," Morgan admitted. "Then they wanted to put a hole in my neck."
We're so happy that it didn't come to that. Hearing that his outcome could have been pretty grim makes our hearts heavy. In fact, nobody really knew what shape Morgan would be in after the accident, which Morgan — humorously — used to his advantage.
For example, we remember his famous monologue from when he hosted Saturday Night Live.
https://www.youtube.com/watch?v=H9UkjPF5X6o?feature=oembed
"Y'all thought for a minute there that was real! Morgan joked, after thanking the audience in a strained voice.
In 2015, even Morgan's actual brain doctor, Dr. Brian Greenwald, referred to his progress as being a "miracle."
While Morgan has been out and about a lot since the accident took place, Fist Fight is the first big movie he's done since then. So obviously, being out on the road from promotional reasons, he's thinking a lot about his prior years.
"I've learned when you're facing death and all that, learn not to take it for granted," Morgan said to Extra. "I ain't gonna do that this trip."
We can all learn a lot from Tracy Morgan. He's a solid reminder that we should try to value each and every day, since we never know what might happen.