This is exactly why Tracee Ellis Ross's Golden Globes win is so important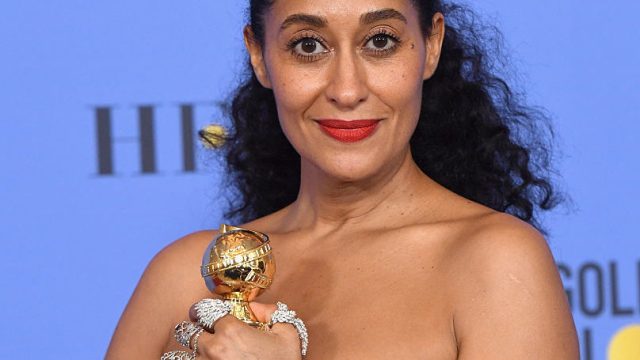 Looking back on the Golden Globes, we can't ignore the importance of Tracee Ellis Ross's win. We definitely understand why Tracee Ellis Ross taking home the Golden Globe for Best Actress in a TV Musical or Comedy was a HUGE deal, whether you've never seen black-ish or not — it was an important moment in history.
As PopSugar notes, Ross is the first black actress to take home the award since 1983, when Debbie Allen won for Fame. That's an extremely long time, and considering the structural racism that exists in Hollywood and how awards are distributed, we're sadly not surprised.
The fact that Tracee Ellis Ross's win was a symbolic win for women of color in general was a big part of her speech.
"This is for all the women, women of color and colorful people whose stories, ideas, thoughts are not always considered worthy and valid and important, she said. "But I want you to know that I see you. We see you."
Oh heck yes. As reported by Vanity Fair, Tracee expanded further on her speech backstage, saying,
Hollywood "can be at the forefront of diversity—not just [about] people of color . . . it's people of all different ages, shapes and sizes, and making sure that the stories we tell and how we celebrate those stories actually represents the humanity that we are right now.
Now that's a message we can get behind. Considering the history of whitewashing in Hollywood, and the lack of diversity on screen, we're honestly cheering so hard right now.
Tracee was so, so excited to win. We're so proud of her.
She's so beautiful, and so talented!
And her fans were thrilled to see her succeed. She seriously deserves it!
https://twitter.com/udfredirect/status/818505391059456000
We're going to keep talking about the importance of Tracee Ellis Ross's win, because it goes beyond one role or one moment in time. It gives us hope that maybe, just maybe, things are moving forward, and it won't take another four decades for a black woman to be recognized for her talent on such a grand scale.